Toontrack has announced the launch of its Holiday Deal Week, a special holiday campaign where one new deal will be announced each day Monday through Friday.
Each deal will be announced at 14:00 CET and will be active for 24 hours only. The first deal is a 70% discount on the Rock Songs MIDI pack.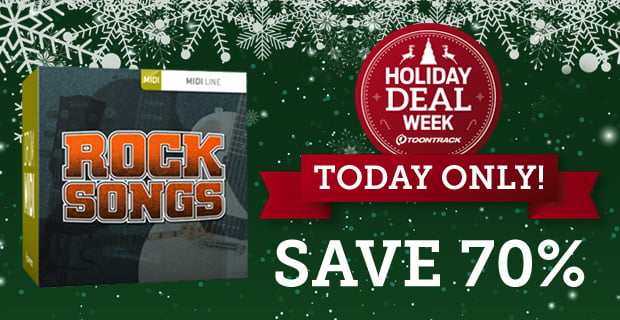 Full songs for you to jam along to or broken down in song structures so you can build your own. Simple, effective and all in the good name of rock!

We all know creativity is not 9-5, that it does not come served on a plate and that once it does have the good taste to show up, you do not want to beat around the bush – you want to capture the moment, grab what you can while it is there. Then, how about having someone to lay down the perfect drum track for you in a matter of minutes so you can get started axing out the details of your song and being creative for real? If so, Rock Songs is for you!

This MIDI pack comes stocked with a variety of songs in different feels, styles and tempos. Part from the individual, full 4-8 bar song structure building blocks (verse, pre chorus, chorus, bridge, fills), it also includes each entire performance from start to finish as a jamtrack, which means you can fire that up and jam along to the original take right away.

No complaints, no coffee breaks, only rock.
The Rock Songs MIDI pack is available at 70% off from Plugin Boutique until December 20th, 2016, 2pm CET.
More information: Toontrack / Rock Songs MIDI