Toontrack has announced the release of the much-anticipated Decades SDX, a sound library expansion for Superior Drummer 3 recorded at legendary Capitol Studios by one of the most prolific audio craftsmen of our time: Al Schmitt.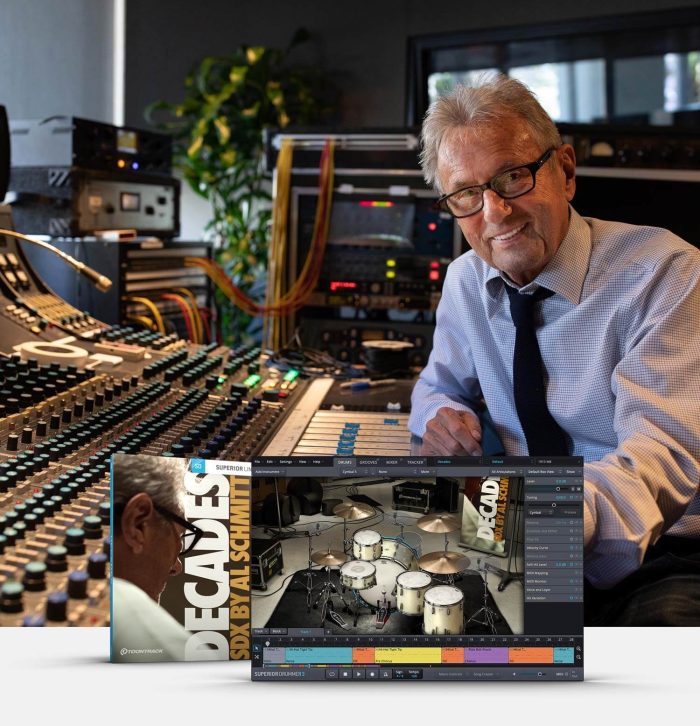 With a career that took its start in the mid-'50s and with 727 recordings, 160 gold/platinum albums, 23 Grammy Awards and a star on the Hollywood Walk of Fame to his name, Al Schmitt is undoubtedly one of the most awarded and prolific audio craftsmen of our time. His hands and ears have literally shaped our collective music history. From now immortal icons like Ray Charles, Frank Sinatra and Sam Cooke to Madonna, Michael Jackson, Quincy Jones, Barbara Streisand and Paul McCartney – Al has worked with them all.

The Decades SDX was recorded at Capitol Studios and comes with five drum kits, all handpicked to represent a specific sound or era in Al's career. Expect a palette of immaculate drum sounds encapsulating not only a lifetime of experience working at the apex of the industry, but just as much a personal and reflective collection of kits that in a way represents his entire body of work. From jazz and big band to rock, fusion, pop, funk and AOR – the Decades SDX covers all the styles that can be traced back to Al's illustrious lifetime achievement.
Decades SDX features
Produced by 23-time Grammy Award-winning engineer/mixer Al Schmitt.
Recorded at Capitol Studios in Los Angeles, CA.
Five (5) kits.
12 snares, nine (9) kicks as well as a broad collection of hi-hats and cymbals.
Includes several iconic original instruments, like the original snare drum used by Jeff Porcaro on Toto's "Rosanna" as well as Steve Ferrone's personal drum kit.
Brushes and/or mallets available on select kits/instruments.
Drums from the 1920s through the late 1990s.
Recorded with an additional seven room microphones for playback in stereo up to 9.1 systems.
Decades SDX is available for 159 EUR / $179 USD.
Also available the Big Band EZX, an all-new expansion for EZdrummer 2 featuring two of the kits from the Decades SDX but tailored for a mix-ready big band-inspired sound.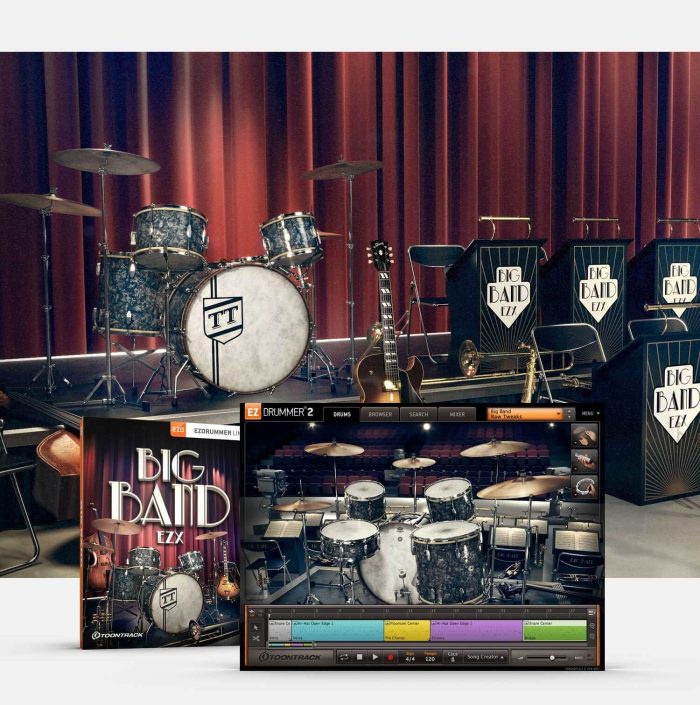 Although the origin of the term "jazz" is still up for debate, the leading candidate for its source is "jasm," a word dating back to 1860 that relates to spirit, energy and vigor. Whether this is the true origin or not, those descriptive words are hallmarks that go together with jazz just as much today as they have through its entire history. The heritage of jazz and its impact on music as we know it is monumental. Arguably, no style of music has managed to seep through cultural tiers, outlive fads and trends or historically been more seminal in spawning great instrumentalists such as jazz has. Quite simply, it's in our DNA and is the common thread in the fabric of our musical history.

This EZX is an homage to jazz on a whole and, in particular, the golden big band era. This did not only produce some of the most iconic artists in recorded history but also immortalized drumming as more than part of the rhythm section – it brought it to stage center. The Big Band EZX brings you two kits from the swing era of the '30s and '40s, both handpicked and tailored to provide an authentic slice of what the big band sound was and, indeed, still is. Expect two fundamentally different kits covering the entire tonal range from the round, warm and intimate to the thunderous, explosive and fiercely energetic – just like the genre itself.

Can you hear it? That steady rattle of the snare, the sizzling melody of the ride and the subtle, round boom of the large open bass drum? Welcome to the Big Band EZX, which will enable you to produce the timeless swing that has been the epitome of jazz for close to a century and a half.
Big Band EZX features
Two complete kits from the 1930s-1940s era.
Recorded at Capitol Studios by legendary producer/engineer Al Schmitt.
Includes kit configurations recorded with sticks and brushes as well as with snare wires on and off.
Mix-ready presets tailored for a big band-inspired sound.
Includes a selection of big band-inspired MIDI drum grooves.
The Big Band EZX costs 69 EUR / $89 USD.
More information: Toontrack