Toontrack has announced the release of the Disco Grooves and Disco EZkeys MIDI packs, two individual releases of MIDI for drums and keys, featuring a broad collection of funk-infused grooves and playing styles inspired by classic and modern disco.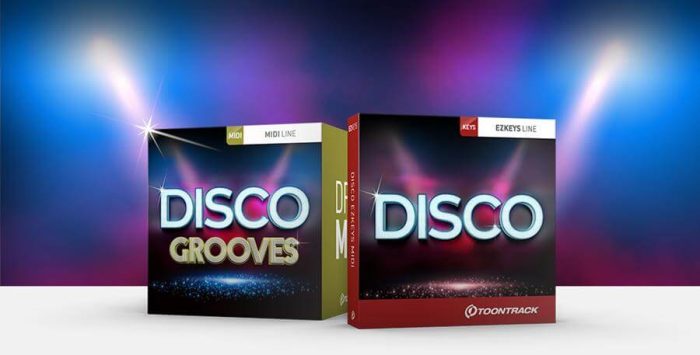 While this collection takes on the timeless rhythms that laid the foundation to disco as we know it, it also draws inspiration from how the genre evolved over the decades and where modern dance music finally is today.

Expect a wide palette of funk-infused beats that can easily be adapted to any vintage as well as modern sounding context. Because, fact is disco is just as alive and well today as it was forty years ago. Just listen to Justin Timberlake, Daft Punk and Madonna and you'll hear it.
Disco Grooves features
Drum grooves and fills inspired by classic funk and disco from the '60s and the '70s through to today.
More than 500 individually played files.
4/4 in straight and/or swing feel.
Tempos ranging from 72 to 182 BPM.
Song structure categorization (intro, verse, chorus, bridge, etc).
Disco EZkeys MIDI features a collection of MIDI files inspired by disco and funk music.
The drums and the bass may be the backbone of any typical disco track, but stripped of the funky twang or rhythmic pulse of the keys, something obvious would be missing. This collection of EZkeys MIDI takes you on a disco journey starting in the wake of the 1970s funk movement and stopping right where we are today.

Expect anything from timeless old-school vibes inspired by the greats of the seventies to the ones pioneering the funk-infused dance music of today.
Disco EZkeys MIDI features
Piano/keyboard MIDI inspired by disco and funk music.
Performed by professional session player.
4/4 playing variations in straight and/or swing feel.
Intro, verse, pre-chorus, chorus and bridge sections.
The new packs are available for 25 EUR each.
More information: Toontrack