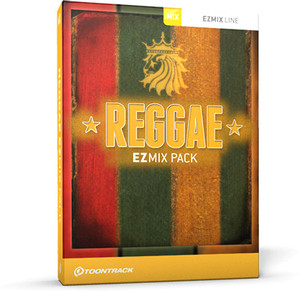 Toontrack has launched the Reggae EZmix Pack, a collection of EZmix 2 presets for reggae music production.
In this EZmix pack, Toontrack teamed up with Sweden's premier reggae studio of the past three decades, Rub-a-Dub Studios, to dig deeper into the art of roots and reggae production.

"We did something unique this time", says Ulf Edlund, Toontrack's sound designer. "We brought a digital rig and ran it alongside the analog setup at the studio. We then A/B tested and matched all tones and settings against that. We were really blown away by how the emulations in the back end of EZmix 2 performed", he says.

The end result is an impressive collection of tape saturated, tube-sizzling and warm settings for a wide range of instruments and mix scenarios. It doesn't only cover the essential guitar and bass tones, but comes with complete effect chains for drums, piano, organ, percussion, horns and vocals. On top of that, it has the genre's characteristic aux bus effect presets with phasers, delays, plate and spring reverbs. And of course, the eternal, dwindling self feeding dub-delays. This pack paints a comprehensive picture of the distinct sonic landscape that is at the heart and soul of reggae. All that it leaves up to you is to voice your own expression and be creative.
The pack is available for purchase for 39 EUR.
More information: Toontrack / Reggae EZmix Pack