Time+Space has announced the release of new EZmix 2 Complete Production Bundles.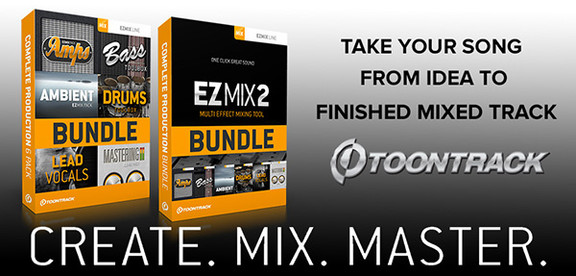 EZmix 2 provides the tools to get the perfect sound for every instrument mix situation and now with the 'Complete Production Bundle' users will have everything they could need to turn their initial idea in to a polished, mixed track not only easily but incredibly fast.

Available with or without the EZmix 2 software, each bundle features six preset packs including…

Lead Vocals – Will help to make your lead vocals sound great and sit well in any mix, in just a few clicks.
Amps – 50 pro-designed signal chains based on guitar/bass amp/cab simulation.
Ambient – Create large, reverberant soundscapes for film scores through to modern pop.
Bass Toolbox – Presets custom-made by an all-star team of engineers solely for bass guitar.
Drums Toolbox – Large choice of one–click settings specifically tailored to enhance drum recordings of any type.
Mastering II – Wide variety of signal chains for the most common mastering needs and music genres.
The Complete Production Bundle is available inclusive of EZmix 2 for £199 GBP/249 EUR (save 29%). Existing EZmix 2 users can get the Complete Production Presets Bundle for £105 GBP/129 EUR (save 40%).
More information: Time+Space / Toontrack EZmix 2 Bundles