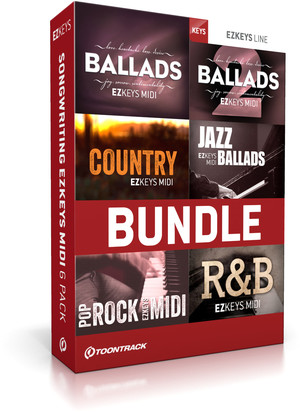 Toontrack has released the Songwriting EZkeys MIDI 6 Pack, a collection of six individual titles from the widely popular line of MIDI in the EZkeys Line.
The Songwriting EZkeys MIDI 6 Pack provides you with professionally played piano parts, all performed in full song structure blocks and in a variety of intensities.

It covers anything from traditional country to the dwindling harmonic landscapes of jazz ballads, the distinctive tonalities of R&B and the everyday pop and rock.

This coupled with the powerful framework of EZkeys gives you not only instant song ideas, it lends you a creative canvas, ready for you add your own expression to.
EZkeys MIDI 6 Pack features
Ballads EZkeys MIDI
Ballads 2 EZkeys MIDI
Country EZkeys MIDI
Jazz Ballads EZkeys MIDI
Pop/Rock EZkeys MIDI
R&B EZkeys MIDI
The bundle is available for purchase for
More information: Toontrack / Songwriting EZkeys MIDI 6 Pack