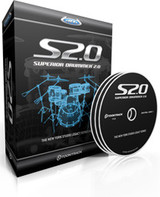 Toontrack Music has released version 2.2 of Superior Drummer, a virtual drum sampler instrument for PC and Mac.
Version 2.2 includes features that radically take users workflow to the next level.

The refined controls over the instruments response and creative possibilities provided by the new MIDI nodes feature, as well as the much requested integrated Groove Player to supplement EZplayer pro's unique features, are sure to make an impression.

Best of all, this is once again a free update available to all Superior Drummer® 2 users.
Changes in Superior Drummer v2.2
Integrated Groove player — Superior Drummer® now includes an integrated MIDI player, complete with drag and drop capabilities. Combine kit pieces patterns from different grooves to create totally new material that are nonetheless completely consistent with how a drummer would approach it.
Full control over the instruments response — Use the comprehensive (and greatly expanded) Velocity Controls to access the sound libraries most intimate technical and musical aspects. Change the response curve of any instrument, or change the response for one of the available articulation only.
MIDI nodes — Associate any combination of instruments – from multiple snare drums to more creative combos to be triggered simultaneously from your MIDI drum track – assembling your dream instrument in entities called MIDI nodes that can be triggered effortlessly from your sequencer.
New Pedal correction presets — Thanks to the improved velocity controls available in Superior Drummer® 2.2, e-drummers will be please to find additional pedal correction profiles designed to correct all the most common foot controller hardware shortcomings.
CC7 control of master volume — Users are now able to automate the Superior Drummer® master volume via MIDI Continuous Controller messages (CC7).
iMap* note mapping preset — Superior Drummer 2.2 includes a new note mapping preset derived from the very popular iMap format.
Library Version info — The Sound library version can now be clearly identified from within the Help menu, making it easier for users to know if they are up-to-date.
Superior Drummer v2.2 is now available for download for registered users. Note: This update includes many bugfixes, visit the Toontrack Support Forum for further details.
More information: Toontrack Music
* iMap is a drum map protocol created by Dave Kerzner & Sonic Reality