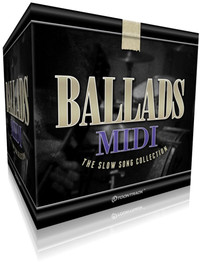 Toontrack has announced the release of Ballads MIDI, a collection of midi drum tracks.time
The open ambience in ballads is unforgiving on any drummer. Every ghost note and each subtle nuance have its given place. Every hit, beat and accent serve a purpose. That's why playing less often requires more of a drummer. And that's why any ballad calls for a solid foundation. Welcome: Ballads MIDI!

This pack will provide pro-played drums for a wide variety of classic pop and rock ballad scenarios – from super slow swung 6/8 to mid tempo straight and swing 4/4. "I think this pack will be a great addition to any songwriter's toolset. I've focused on simple, to the point drumming that will work in any song in need of a strong backbone", says drummer Martin Kristoffersson.
Ballads MIDI features
All material categorized in different songs.
Intro / verse / pre-chorus / chorus / bridge / fill sections.
Swing and/or straight feel in 4/4 and 6/8.
Works with EZdrummer®, Superior Drummer® 2.0 (optimized for 1 kick, 1 snare, 2 toms, 1 floor-tom, 2 crash cymbals, 1 ride cymbal).
The MIDI pack is available to purchase for 25 EUR / $29 USD.
More information: Toontrack / Ballads MIDI