Toontrack has announced the release of the Blues Guitars EZmix Pack, a new expansion pack for the EZmix 2 multi-effect mix tool.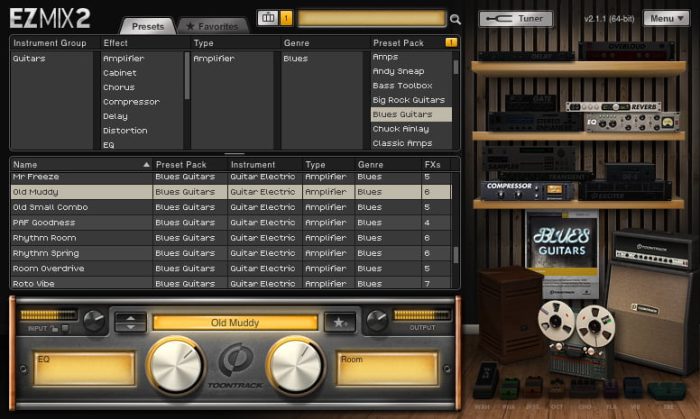 When blues guitar shifted from primarily acoustic to electric in the post-war 1950s USA, it was the beginning of a revolution. Since then, nothing has been more influential on the development of guitar-driven music than the blues. Pioneers like Howlin' Wolf, Muddy Waters and Jimmy Reed not only paved the way for music where an instrument can carry as much of a voice as a vocal, but the twang of their amplified chords also laid the groundwork to an industry. Needless to say, we owe a lot to the blues – not least the guitar hero.

The Blues Guitars EZmix Pack picks up on this legacy and sets out to capture the essence of electric blues guitar from then through now. Crafted by Ulf Edlund, Toontrack sound designer, guitar collector and longtime amp aficionado, this collection was carefully sculpted to emulate several classic amps, speakers and stomp boxes. Expect anything from the raw and dirty tones of the 1950s and the British blues boom of the 1960s to the hi-gain clarity of today. With six decades worth of source material and inspiration, this is arguably the most genuine source of blues guitar ever captured in digital form. All you need now is a riff. Get your guitar out!
Blues Guitars EZmix Pack features
50 guitar tones tailored for blues music.
Based on amp, speaker and stomp box modulations.
Rhythm, lead and clean tones.
The Blues Guitars EZmix Pack is available from Plugin Boutique for 39 EUR/USD.
More information: Toontrack / Blues Guitars EZmix Pack