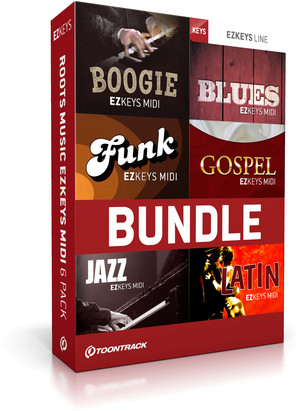 Toontrack has announced the release of two new titles for its line of MIDI for EZkeys; Boogie EZkeys MIDI and the Roots Music EZkeys MIDI 6 Pack.
Boogie EZkeys MIDI takes a deep dive into the rich legacy of boogie piano music. It has all the timeless eight and twelve bar progressions, the walking bass lines, the breaks and other unmistakable traits. Simply put, a century of boogie heritage boiled down to a collection of ten tracks organized in easy-to-use song structure building blocks for you to drag, drop, dissect and shape into your own.

The bundle provides provides you with professionally played piano parts, all performed in full song structure blocks and in a variety of intensities. It includes six (6) individual EZkeys titles covering fundamental jazz, blues, boogie, latin, funk and gospel inspired music, ready for the user to drag, drop and create their own songs from. This coupled with the powerful framework of EZkeys gives you not only instant song ideas, it lends you a creative canvas, ready for you to add your own expression to.
The Boogie EZkeys MIDI pack is now available for purchase for 25 EUR; the Roots Music EZkeys MIDI bundle costs 79 EUR. The bundle includes the Boogie EZkeys MIDI release.
More information: Toontrack