Toontrack has announced the release of two new MIDI packs.
Even though these are two independent titles by two different artists, a similar inspiration-base was used for both the drum and the keyboard parts. With matching naming and song structures, combining elements from these two packs will be very intuitive for end user.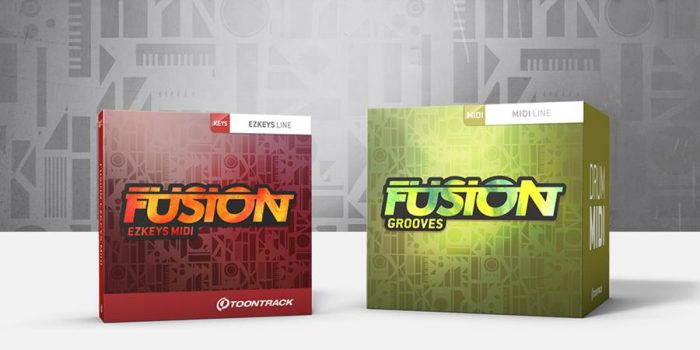 Fusion Grooves MIDI features over 400 individually played grooves and fills by Luke Oswald.
Fusion. "The process or result of joining two or more things together to form a single entity". The general dictionary definition of the word applies perfectly to the music genre as well – it's a mix of disparate elements from several genres that, put together, make perfect sense. In a seamless merge, it combines the complexity of jazz, the groove of funk and the raw power of rock, particularly when it comes to the drums.

In the Fusion Grooves MIDI pack, drummer Luke Oswald not only draws inspiration from genre forerunners like Vinnie Colaiuta, Dave Weckl, Will Kennedy and Steve Gadd, he also adapts ideas from contemporary players like Lil' John Roberts and Mark Guiliana, while still throwing a big portion of his own personal style into the mix.

Performed in song structure blocks and with an increasing complexity in each category, this collection of grooves and fills was designed to suit both writers looking to make solid, backbeat-driven rock fusion as well as the ones that are looking for busy, jazz-inspired beats where the drums are racing at full engine speed. This is a collection of drums, oozing of that genre-typical technicality and subtlety. All the traits you'd expect are there; the intricate ghost notes, the busy leading-hand work and a slew of that sophisticated "session drummer" finesse that only a great performer can muster.
Fusion Grooves MIDI features
Drum grooves and fills inspired by fusion music.
More than 400 individually played files.
4/4 in straight and/or swing feel.
Tempos ranging from 90 to 175 BPM.
Song structure categorization (intro, verse, chorus, bridge, fills, etc).
The Fusion EZkeys MIDI pack by Stefan Olofsson presents a diverse collection of keyboard MIDI, all inspired by fusion music from then and now.
Expect a seamless blend of rock, jazz and funk that takes technicality, tonality and context to a new level.

While this is very much a classic EZkeys collection of song ideas for any writer to build on, it is also the perfect sparring partner to the seasoned instrumentalist who is not afraid to get thrown off at times.

Spice up your next songs with some new and creative chord progressions, off-kilter ideas and inspiration. Don't be afraid to bend the rules – that's the very nature of fusion.
Fusion EZkeys MIDI features
Piano/keyboard MIDI inspired by fusion music.
Performed by a professional session player.
4/4 in straight and/or swing feel.
Intro, verse, pre-chorus, chorus and bridge sections.
The Fusion Grooves MIDI and Fusion EZkeys MIDI packs are available for purchase for 25 EUR each.
More information: Toontrack