Toontrack has announced the release a new sound library expansion produced by Bob Rock. The Hard Rock EZX features excerpts from The Rock Foundry SDX library for Superior Drummer 3, already released back in November 2017.
The EZX is optimized for use in EZdrummer 2 and significantly smaller in terms of size compared to the SDX. It offers a mix-ready sound, catering to users in need of a great drum mix at the click of a button.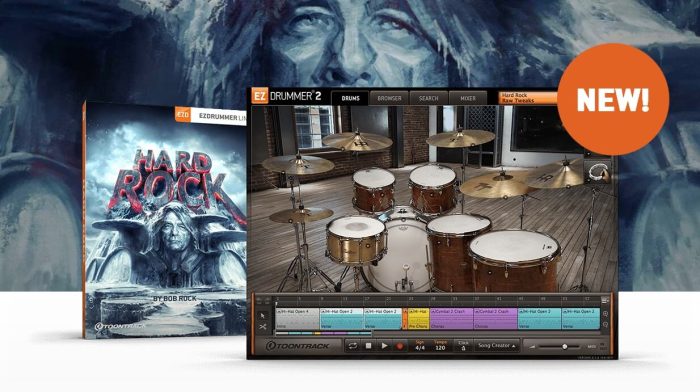 What do you get if you take one of the world's most noted and sought-after metal and rock producers to his choice studio, bring a handpicked selection of drums, round up the best gear and outboard money can buy and hit 'record'? You get drums, tailored and tweaked for their proper context. Period. Welcome to the Hard Rock EZX by Bob Rock.

The Hard Rock EZX was recorded at The Warehouse in Vancouver, BC, and comes with two kits, fundamentally different in their individual tones. The custom Gretsch, with its brittle and direct attack, is ideal for use in more modern productions while the classic three-ply Ludwig, with its complex, dark and warm timbre, is the perfect choice in mixes of a more vintage and ambient nature. In addition, the EZX includes a broad selection of extra kicks, snares and cymbals, allowing you to mix, match and design your own hybrid kits as you go.

To top off, the Hard Rock EZX features a collection of mix-ready presets encompassing a wide tonal range and mix of styles. Three of the presets were personally engineered and mixed by Bob Rock himself using his own custom samples to layer, saturate and augment the already awesome power in the raw drum tones.

Want the drums on your next track to come straight from the creative mind behind the sound of Metallica, Mötley Crüe, Aerosmith and many, many more? Here you go.
Hard Rock EZX features
Two individual kits (Gretsch, Ludwig).
Recorded by Bob Rock at The Warehouse in Vancouver, BC.
Features custom mix presets by Bob Rock.
Five (5) kicks, four (4) snares, seven (7) toms, two (2) hi-hats and eight (8) cymbals in total.
A basic selection of custom MIDI drum grooves included.
The Hard Rock EZX is now available for purchase from Toontrack and distributors Time+Space and Plugin Boutique, priced at 69 EUR.
Also, until May 31st, a purchase of EZdrummer 2 includes a free EZX pack of choice.