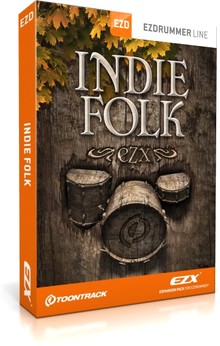 Toontrack has announced the release of the Indie Folk EZX EZdrummer expansion library, focusing on capturing the organic, warm, intimate and ambient sound characteristic of the indie folk genre.
The EZX, aptly titled the Indie Folk EZX, was recorded at the Avast! Recording Co. in Seattle, home to bands such as Fleet Foxes, The Shins and Band Of Horses. It comes with three complete vintage kits: a 1960s Gretsch Round Badge sampled with both sticks and mallets, a Ludwig from the 1950s as well as a Slingerland Rolling Bomber kit dating back to the 1940s. Also included are two tambourines, a hi-hat mounted tambourine jingle, an extra kick and snare as well as a 28″ floor tom.
Indie Folk EZX features
Three (3) complete kits.
Two EZXs in one! Each kit is available in two variations: a standard multi-mic mix and a classic four-mic mix.
Custom drums from the 1940s to the 1960s.
Default kit sampled with both drumsticks and mallets.
Recorded at Avast! Recording Co. in Seattle, WA.
Included MIDI performed by sampling drummer Stephen Belans.
The EZX is available to purchase for $89 USD / 69 EUR.
Toontrack has also launched the Indie Folk MIDI, a collection of grooves and fills.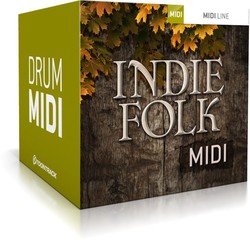 With the Indie Folk MIDI pack, Stephen Belans delivers a wide and useful range of grooves and fills for songwriters that are looking to expand their horizon, go outside their comfort zone or rethink what role the drums can play in a composition.

"Sometimes just a simple heartbeat/backbeat feel is all that's needed. Other times, the drums find their place at far ends of the spectrum. Some grooves stick to a smooth ebb and flow with a natural evolution of intensities while other ones use more dramatic transitions that don't rely on traditional rock defaults", says Stephen.
The Indie Folk MIDI pack cost $29 USD / 25 EUR.
More information: Toontrack