Toontrack has announced the release of Indiependent MIDI and Indie & Vintage MIDI 6 Pack, two new drum MIDI titles.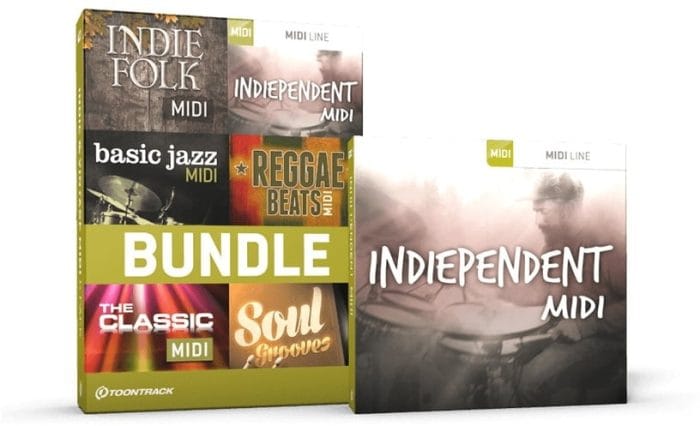 The Indiependent MIDI title comes from the newly released Indiependent SDX expansion for Toontrack's flagship drum sampler Superior Drummer 2 and is now available as a separate product. The bundle title includes this pack as well as five other individual titles. These products add to the widely popular and close to 50 title strong line of Toontrack drum MIDI.

Indiependent MIDI comes with close to 400 individually played grooves and fills performed by possibly one of the world's most well-rounded drummers, Thomas Hedlund. With a history in bands such as the French Grammy Award-winning pop-wonder Phoenix, Sweden's The Perishers, Deportees, Khoma and Cult of Luna, he's constantly been forced to reinvent himself and juggle the ins and outs of drumming.

The Indie & Vintage MIDI 6 Pack bundle comes with six individual drum MIDI titles covering the essentials of indie, blues, jazz, classic rock and reggae. A wide and useful range of drum grooves – all expertly performed by top session drummers in their respective genres. From the Indie Folk and Indiependent MIDI comes a fearless collection of grooves that stray way beyond the conventions of drumming – off-centre, inventive and inspiring material that twists, turns and questions the traditional rock and pop defaults. The Classic MIDI has former Paul McCartney and Dire Straits drummer Chris Whitten revisit some of his biggest, classic rock hits while the Basic Jazz and Reggae titles take a deep-dive into an utterly opposite field of drumming – the roots and origins of jazz and reggae. Soul Grooves, on the other hand, explores the origins of soul – from the Motown heritage in the north, along the coast and crossing over the Mississippi delta to the deep south in Alabama.
Indiependent MIDI is available for 25 EUR, the Indie & Vintage MIDI 6 Pack is 79 EUR.
More information: Toontrack