Toontrack has announced the release of two new presets packs for Superior Drummer 2.0, and Metalheads MIDI, collection of MIDI files from the Metalheads EZX.
At Toontrack, November always means Metal Month. It's the annual celebration of metal music and a month filled to the brim with new sounds, new tools, new grooves, competitions and fun! Check out the site and join the party!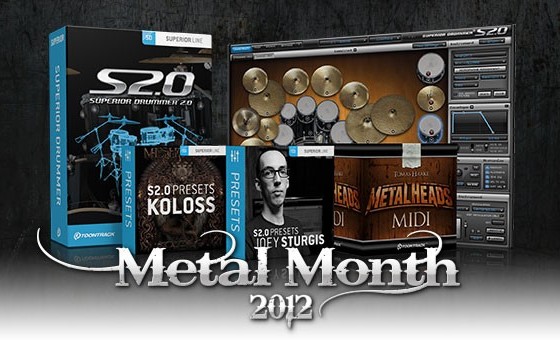 New Metal Month releases
S2.0 PRESETS – KOLOSS — This preset for Superior Drummer was modeled after the drum sound on Meshuggah's "Koloss" album and features samples from the actual recording session. Engineered by the man behind the "Koloss" album mix, Daniel Bergstrand!
S2.0 PRESETS – JOEY STURGIS — Having worked with numerous rising stars such as The Devil Wears Prada, Asking Alexandria and Emmure, Joey Sturgis has become the go-to guy for the perfect modern metal mix! Here he shows you how he tweaks Superior Drummer!
METALHEADS MIDI — Now up for grabs: the MIDI from the Metalheads EZX! Twelve classic Meshuggah songs, captured flawlessly via MIDI by Tomas Haake himself, organized both as full songs as well as song parts so you can customize, dissect and use his drumming brilliance to create your own grand metal compositions!
The S2.0 Presets packs are available to purchase for 12 EUR / $15 USD each, the Metalheads MIDI is 25 EUR / $29 USD.
More information: Toontrack