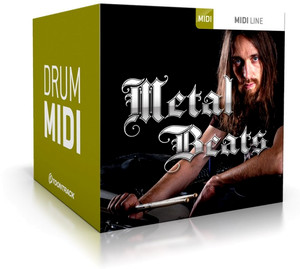 Toontrack has launched Metal Beats MIDI, a new pack featuring a collection of drum grooves and fills performed by renowned metal drummer Dirk Verbeuren of Soilwork.
After the three volumes in the Library of the Extreme series and a few thousand variations of the most outrageous metal drumming there is, Dirk winds down a tad. In this pack, he delivers a comprehensive collection of straight forward, modern metal drumming – all the way from ultra-slow doom and crushing mid tempo to galloping double-bass work. Essentially, everything you might need in between the blast beats, carpet rolls or skank beats you got from the Library of the Extreme suite.

This collection of drum beats and fills is the perfect match for any traditional or modern metal songwriter looking for world-class, sharp and inventive drumming straight from one of the world's most well-rounded and dynamic e-drummers.
Metal Beats MIDI features
MIDI drum beats and fills for traditional and modern metal.
Performed by Dirk Verbeuren (Soilwork).
All material organized in straight or swing songs and broken down by leading instrument (closed hats, open hats, etc.).
Each song has a dedicated section for fills.
Tempos ranging from 56 BPM to 240 BPM.
The MIDI pack costs $29 USD / 25 EUR.
More information: Toontrack / Metal Beats MIDI