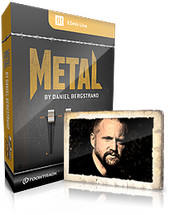 Toontrack has announced the release of the Metal EZmix Pack, a collection of presets for the EZmix plug-in.
When we created our popular EZmix plugin, our purpose was very simple. We wanted to make getting great sound as uncomplicated as possible – that's it.

So, in keeping with that theme, we have created a new expansion pack for EZmix that is sure to excite the inner metal monster in all of you… This time we went as cold and Nordic with our metal as we could, Meshuggah, In Flames, Nocturnal Rites, Scarve & Soilwork.

What they all have in common is Daniel Bergstrand – Producer, Engineer & Mixer of the metal elite. He has helped all these bands, and many more, to perfect their precious metal vision. Now, he's going to help you perfect yours!

Introducing the Metal EZmix Pack by Daniel Bergstrand. Tons of quick and EZ presets for Guitar, Bass, Keyboards, Vocals…and yes, DRUMS! If you make metal, this was made for you. Just open the EZ mix plugin inside your favorite DAW, pick the preset you like most and apply! Mixing your metal really did just get that much more EZ.
The Metal EZmix Pack is available to purchase for 25 EUR.
More information: Toontrack / Metal EZmix Pack