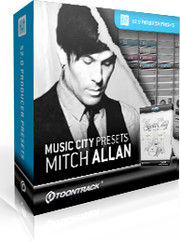 Toontrack has announced the release of Music City Presets – Mitch Allen, a collection of presets for the Music City SDX expansion for Superior Drummer 2.0.
Get songwriter, producer and avid Toontrack user Mitch Allan's (Daughtry, Faith Hill, Backstreet Boys) take on how to best tweak the Music City SDX for it to sit perfectly in a mix. Mitch also knows that quick results and great sounds is key when writing.

"I find that most songwriters are not engineers, so you have to get good sounds as fast as possible and I'm hoping that my presets will be the fastest way for you to get that sound you want – right there at your fingertips", Mitch says.
Music City Presets – Mitch Allen is available to purchase for 12 EUR.
More information: Toontrack