Toontrack announced the release of the long-awaited Orchestral Percussion SDX, a sound library expansion for Superior Drummer 3 featuring an extensive collection of orchestral percussion instruments.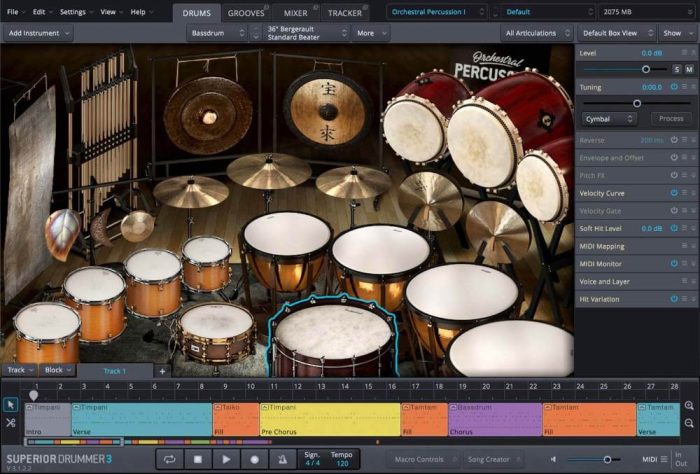 Captured in the same room, with the same scrutiny for detail and the same 11.1 microphone positioning philosophy as the Superior Drummer 3 core library, the Orchestral Percussion SDX is not just the perfect complement to the Superior line of sounds, it's a revelation in terms of flexibility and playability within the Superior Drummer 3 framework.

This is not just a sound library, it's arguably the most all-encompassing and carefully captured collection of handpicked orchestral percussion instruments on the market. Welcome to the Orchestral Percussion SDX for Superior Drummer 3.
Orchestral Percussion SDX features
More than 120 individual instruments.
Recorded at the same studio as the Superior Drummer 3 core sound library.
A complete immersive experience.
Playback in stereo up to 11-channel surround systems.
Sampled with extreme attention to detail and articulation.
Optional tools available for selected instruments.
A comprehensive collection of MIDI.
Comes as a factory bundle including two SDX configurations.
The Orchestral Percussion SDX covers the entire tonal range from majestic to subtle. You'll find everything from the quintessential timpani, the thunderous bass drums, the traditional taiko and the classic marching snares to the subtle hand cymbals, triangles and wood blocks. In the Orchestral Percussion SDX, you'll literally have all the options you need on both ends of the extremes.
Given the range and sheer volume of content, the Orchestral Percussion SDX comes configured as a factory bundle of two separate SDX libraries, both available directly upon installation from the drop-down menu in Superior Drummer 3. The first volume includes the more fundamental or leading instruments, such as timpani, bass drums, taikos, snares and toms, while the second volume covers the triangles, wood blocks, various shakers, chimes and other instruments often used as effects or to embellish or accentuate arrangements.
Orchestral Percussion SDX is available for 209 EUR / $279 USD.
Also available as is the Superior Drummer 3 Orchestral Edition, a bundle featuring the full Superior Drummer 3 software and core library as well as the full Orchestral Percussion SDX.
This bundle includes the regular version of Superior Drummer 3 and the Orchestral Percussion SDX. Combined, you'll have near 300 GB of raw, pristine sounds to use in the limitless creative palette that is Superior Drummer 3.

Welcome to the ultimate framework for modern and elaborate percussive sound design.
The Superior Drummer 3 Orchestral Edition bundle is available for 499 EUR / $599 USD.
More information: Toontrack