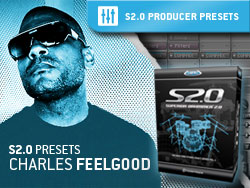 Toontrack has released S2.0 Presets – Charles Feelgood, a collection of presets for Superior Drummer 2.
After the success and overwhelming response to Charles Feelgood's (Diddy, Lady Gaga, Ashlee Simpson, Billie Holiday) N.Y. Vol.2 Presets and Electronic EZmix Pack, we felt we couldn't resist the urge of unleashing Superior Drummer® 2.0's core library, Avatar, in the hands of this mastermind electro producer, DJ and remixer. As we expected, the result is not only a collection of mind-blowing and inspiring presets for anything filed under the Electronic genre – it's a reminder of the power and flexibility of the built-in tools and effects in Superior Drummer® 2.0.

Superior Drummer® 2.0 owners, remember: the only thing between you and the drum sound of your wildest dreams is your own creativity…and with these presets, you should get a boost like none other!
S2.0 Presets – Charles Feelgood is available to purchase for 12 EUR / $15 USD.
More information: Toontrack