Toontrack has announced the release of The Blues EZX, a sample library featuring 2 drum kits and grooves, sampled and played by Hans Lindbäck.
You can't fool a blues lover. You know that it's all about the craft, about the touch, the feel and the heart. We know you can spot a fake from a mile away. That's why we're proud to bring you the real deal – the custom, the calfskinned, the road-worn: The Blues EZX.

The Blues EZX comes with two complete kits; a 1970s Gretsch and a calfskinned Swedish Levin set from the 1940s. On top of that, it features contemporary Paiste and Sabian crashes, vintage Zildjan A and K series cymbals as well as extras such as a suitcase and a set of calfskinned tambourines. All instruments were handpicked and in many cases road-worn by the sampling drummer himself, a blues musician with more than half a decade worth of experience behind the kit playing the blues. It was recorded in an empty Swedish theater and later mixed in a high-end studio through vintage and modern outboard gear. The end result is a cross-pollination between new and old; warm and characteristic sounds that cover the whole range, from old school to modern, from dry to ambient. This is the sound of then, now and time to come.
The Blues EZX features
Two complete kits (1970s Gretsch & 1940s Levin).
Sabian/Paiste/Zildjian A & K cymbals.
Calfskin drumheads on Levin kit.
Suitcase & two vintage calfskinned Grover tambourines.
Included custom MIDI library.
The Blues EZX is available to purchase for 69 EUR / $89 USD.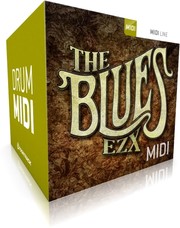 Toontrack has also introduced the Blues EZX MIDI, a large selection of drums suited for any type of blues or rock song.
This MIDI pack comes from The Blues EZX and features a large selection of drums suited for any type of blues or rock song. It was played by longtime blues drummer Hans Lindbäck, a phenomenal musician with decades worth of experience behind the blues kit and on the road.
The Blues EZX MIDI costs 25 EUR / $29 USD.
More information: Toontrack