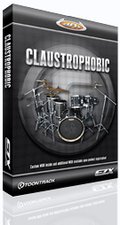 Toontrack is now shipping two new expansions for EZdrummer, Claustrophobic EZX and Twisted Kit EZX.
Form the Claustrophic EZX page:
The Claustrophobic EZX marks a new step for Toontrack in driving the development of percussive samples. The audio team at Toontrack has utilized drumhead selection, room and microphone configurations to fuse the qualities of a high end drum recording and the cutting edge of the radical beats of today's top RnB, Hip Hop and Pop producers.
Features
Sampled through the best of outboard effects with compression, distortion, attack and reverb made available in the EZmixer
Mixer presets by STS 9, Richard Devine, DJ Amp live, sub-ID and Count Bass D
The possibility to save your own mixer presets with EZdrummer 1.1 installed
The Twisted Kit EZX is quite something else. This expansion includes instruments such as the "drawer", "cardboard box" and the "Deagan Doorbell".
Drummer and percussionist Michael Blair (Tom Waits, Elvis Costello and Lou Reed) does not use an ordinary drum kit!
From the Twisted Kit page:
So, two rototom frames form a tonal hi-hat, a duck call suggests an alternative cowbell, tack drums from China become rack toms and putting the hubcap of your very first car on top of your snare seems like the right thing to do. Michael Blair crosses over boundaries of industrial, blues, ethnic, orchestral, and replacement percussion to form a unique sound. The Twisted Kit EZX brings you that sound both in the recordings and the MIDI recorded by Michael.
Visit Toontrack's EZX page for more information and audio demos of these expansion kits.