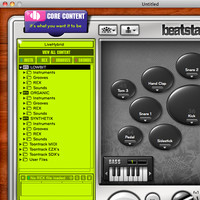 Toontrack has updated its Beatstation virtual instrument to version 1.0.3.
This update is recommended for all users but particularly for those running the latest operating systems released by Microsoft and Apple.
At its core, Beatstation marks the next step in Toontracks evolution of creating virtual instruments that are both simple and effective to use but also very powerful sound design & music production tools.
Changes in Beatstation v1.0.3
New Features:

64-bit hosts support on Mac.
Support for EZX/SDX preset instruments as specified by the library configuration files.
A new Toggle Metronome option has been added to the Settings menu (standalone).

Fixed in version 1.0.3:

The crash on Japanese systems in Sonar should no longer occur.
A bug in the sample recorder causing crashes on Mac has been fixed.
A number of memory leaks have been fixed.
Fix for drag and drop to the plug-in in Pro Tools 10.0 or higher on Mac.
MIDI and REX grooves start from the beginning when not syncing to the host timeline and are played for the first time.
You now always get the same MIDI loop when dragging as the one that is played – no new random flam.
The default layout has been changed to 6×4 in the full version (as in the demo).
The instruments in the Sounds tab are now alphabetically sorted (except Bass and Lead, which are always at the top).
Clicking below or above the scroll handle should no longer shift the contents of the browser more than a page at a time.
Key 120 on the lead pad, a key with no function, is now hidden.
The mouse wheel now works on a secondary screen to the left of the primary screen (Windows).
Horizontal mouse wheel scroll support on Windows – shift+vertical wheel can also be used.
The standalone window position is now properly saved even if the window is minimized on Windows.
The standalone host now constrains the window position to the current screen size at startup.
The 'Set Plug-In Path' menu entry can now be found in the Settings menu in standalone mode.

Content update:

The default instrument has been improved for MIDI playback of our various drum MIDI.
Misc non operational changes (pad labels, etc.).
Beatstation for Windows and Mac is available to purchase for $129 USD / 89 EUR.
More information: Toontrack