Toontrack has released version 1.2.0 of EZplayer pro, a MIDI organizer, multi track arranger and format conversion tool for Windows and Mac.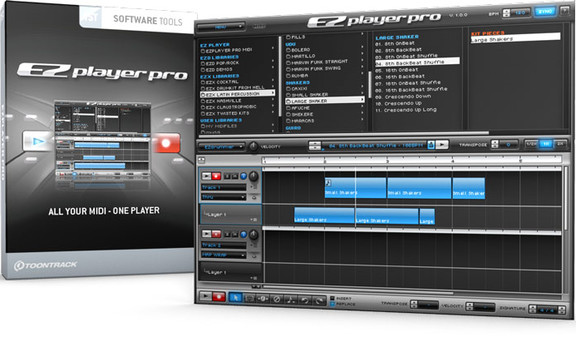 EZplayer pro 1.2.0 is now available from your Toontrack account. This is the first release of EZplayer pro to provide compatibility with Pro Tools 11 (AAX support). It also features numerous fixes together with new and updated wrappers for many of the more popular drum samplers.

IMPORTANT: this release is tested on Windows 7 and newer only. It is NOT compatible with Mac OS 10.5 and requires Mac OS 10.6 as a minimum. In order to offer some of the added functionality of EZplayer pro, we have provided a customer support release, version 1.1.1, available from the user area. Customers with systems running Windows XP, VIsta and Mac OS 10.5 should download that version instead, the last that will be provided with compatibility with those operating systems.
Changes in EZplayer pro v1.2.0 features
New and updated wrappers for Native Instruments Abbey Road Series and Studio Drummer, FXpansion BFD 3, Steven Slate Drums 4, Apple Logic X Drum Kit Designer, Steinberg Groove Agent 4 incorporating Acoustic Agent, Cakewalk Session Drummer and Studio Instruments and XLN Audio Addictive Drums 2.
Compatibility with Pro Tools 11 (AAX support).
Online authorization was added.
Added an 'About' dialogue.
Horizontal mouse wheel scrolling is now supported on Windows (shift+vertical wheel can also be used).
Support for smooth scrolling with trackpads and similar in 64-bit hosts on Mac OS 10.7 or higher.
The MIDI grooves previously available as a separate download are now included on installation.
Snap to grid improved to be more accurate.
For user-added paths in the browser, kit piece definitions that can be used are now those that are present in installed Toontrack MIDI packs (instead of them being included in the plug-in).
Drag and drop of a MIDI block from EZplayer pro to the desktop now uses the name of the block instead of the original filename.
Moving an accent now shows an outline of the accent at the new position during the move.
Fixed: recording could cause crashes.
Fixed: moving/copying clips on the tracks could crash.
Fixed: crashed if a corrupt MIDI file was dropped on a track.
Fixed: browser playback when using the original tempo of the MIDI file would start a little too early every time it looped.
Fixed: on Windows, the mouse wheel did not work on a secondary screen located to the left of the primary screen.
Fixed: various fixes in the "Add Directory to the MIDI Browser" dialog and the "Update or Remove Directory" dialog.
Fixed: after having made a clip on a track smaller by cropping the beginning, moving an accent moved it to the wrong position (when played back – graphically it looked correct).
Fixed: dragging from the browser to the arranger did not apply the source mapping to the new loop (but instead re-transformed the browser loop).
Fixed: quotation marks in track names, layer names and clip names caused them to not get saved/loaded correctly.
Fixed: on Mac, the folder name of a user-added path in the browser may now contain slash and other characters that are allowed in file names on Mac.
Fixed: on Mac, dragging a file with slashes or backslashes in the name to a track gave the resulting clip wrong name.
Fixed: in Pro Tools on Mac, when the mouse was moved onto the plug-in window, the mouse cursor usually stayed what it was outside the window, for example a hand.
Fixed: in Pro Tools on Windows, the mouse cursor never changed from an arrow when hovering over certain areas even though the plug-in tried to set it to something special.
Fixed: when dragging in external MIDI to a track, the drop marker could be drawn behind existing clips.
Fixed: the drop marker was too large when drawn on a layer.
Fixed: when moving a clip on a track, it didn't always snap correctly to the beginning of the clip, for example when time signature was 3/8 and grid size was a quarter note.
Fixed: when time-stretching a clip, the visual marker line was sometimes drawn behind the clip and sometimes it did not stay in the current track/layer.
Fixed: when moving an accent and releasing the mouse outside the clip, the move got cancelled instead of the the accent being moved to the left-most/right-most position as expected.
Fixed: clicking below or above an accent with the arrow or delete tool now selects or deletes the whole clip instead of just the accent.
Fixed: aborting a drag of an external file to the arranger by pressing escape did not remove the drop marker.
Fixed: several memory leaks.
EZplayer pro for Windows and Mac (VST/AU/RTAS/AAX) is available for purchase for 39 EUR.
More information: Toontrack