Toontrack has released the 3.1.0 update for Superior Drummer 3 and the 1.1.0 update for the Superior Drummer 3 core sound library.
The software update includes a comprehensive list of added features and improvements while the core sound library update addresses several sound and preset fixes.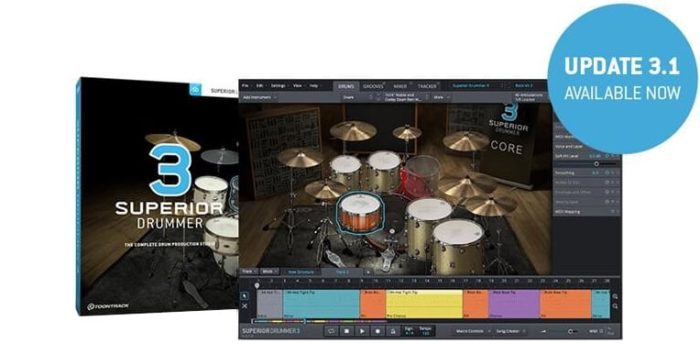 Building on the legacy of its predecessor, Superior Drummer 3 was redesigned from the ground up to introduce a completely new and improved workflow, integrated drum audio to MIDI conversion, 35 mixer effects, scalable interface, detachable windows, a comprehensive MIDI library, an all-new core sound library recorded by George Massenburg and much, much more.
Changes in Superior Drummer v3.1.0
New features in the grid editor, such as rearranging the rows, improved CC and aftertouch editing as well as new quantize options.
New metronome settings. You can for example set the metronome to its own output channel when using multi out in a DAW.
Auto-save system added.
Added Groove Parts in Grooves tab, previously known as 'Kit Pieces' in Superior Drummer 2.
The solo/mute system has been reworked and improved.
Added a bypass effects button on each mixer channel. Great for A/B testing.
Both updates are available now from the Toontrack Product Manager or from the 'My Products' area of each registered owner's Toontrack account. Please note that version 3.1.0 is required for the support of Superior Drummer 3 products released from this point forward (Q1 2018).
More information: Toontrack