Toontrack has announced that the fifth edition of its annual Metal Month will be launched on October 31st.
The month will include seven new metal related product releases, starting today with two new bundle titles for EZmix 2. This year also sees Toontrack as the main presenter of the Devin Townsend Project/Animals as Leaders North American co-headlining tour, culminating in a free live stream of the November 26 Chicago show on Toontrack's website.

"Metal Month is by far one of the most exciting and successful months of the year for us as a company", said Peter Knutsson, Toontrack's CEO. "It's a testament of our deep-rooted ties to the metal community and a celebration of the very foundation on which the company was built. We're beyond excited about what we have in store, and to top it off with a free live stream from bands all relying heavily on our products in their creative processes is the perfect way to crown what we believe will be our biggest year yet".

None of the seven products slated for release in November have yet been officially announced. Each week of the month, one or more products will be revealed online.

"Every year leading up to November, we work as hard as we possibly can to outdo ourselves and bring our users the most inspiring set of tools and sounds we possibly can come up with", said Mattias Eklund, Toontrack's co-founder and head of Sound Design. "This year we present new titles that span almost all our product lines. We'll introduce collaborations with new producers, new drummers and new guitarists, all contributing to amazing products for EZdrummer 2, Superior Drummer 2, EZmix 2 and our line of drum MIDI".

In addition, several metal related Toontrack titles are on generous discounts all through November.
Toontrack has also launched the EZmix 2 Rock & Metal Guitar Bundle, comprising the powerful multi-effect mix tool EZmix 2 with six individual expansion titles, all centered around rock and metal guitar.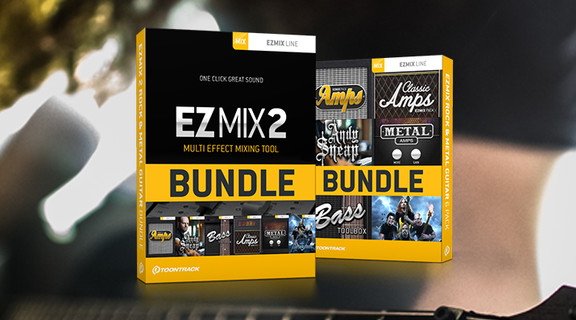 We couldn't wait – here's a guitar-soaked prelude to Metal Month: EZmix 2 Rock & Metal Guitar Bundle.

From the twang of the '60s to the metal chug of today. With nearly 300 unique tones or settings, this is the ultimate resource for rock and metal guitar.
EZmix 2 Rock & Metal Guitar Bundle features
Includes EZmix 2 and six (6) individual EZmix Packs.
Suited for producing rock and metal oriented music.
Close to 300 individually crafted settings for guitar or bass.
Tones for rhythm, lead, clean and more.
The bundle is on sale for 149 EUR (regular 249 EUR).
More information: Toontrack