Plugin Boutique's recent Top 5 Friday episode takes a look at some of the best bit crusher plugins available.
This week super producer Tim Cant counts down the Top 5 Best Bit Crusher VST Plugins on Plugin Boutique as of October 2019. Sample Rates and Bits can't run from this list! We will find them. And crush them.
5. Bitcrush Snapin by kiloHearts
This might just be a tiny little device with six controls to degrade your signal quality, but sometimes that's all you want. The Bitcrush Snapin has the standard Rate and Bits controls, and they're flanked by two converter quality controls, a Dither and a Mix control. No filter though.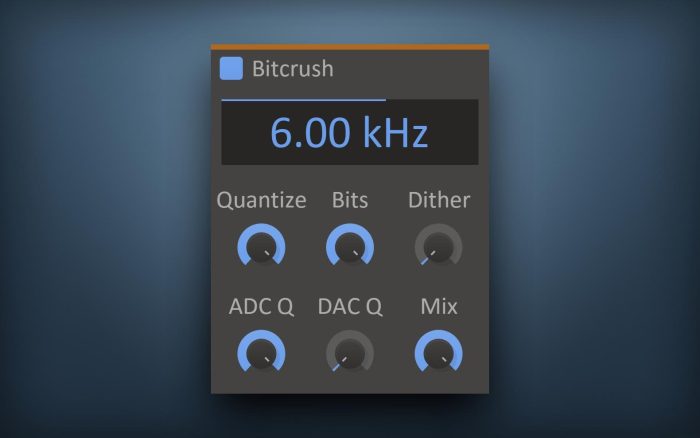 At £17, the Bitcrush Snapin is actually designed as a part of a larger ecosystem.
Whether you're using kiloHearts' Multipass, Phase Plant or Snap Heap shells, this and many other Snapins can be laid out and combined together as a whole modular system. This means that Bitcrush Snapin is also available in a larger pack of more plugins that can be loaded individually in your DAW as well.
4. Pixelator by Joey Sturgis Tones
At only £18, this one doesn't have loads and loads of controls, but it's got it where it counts, and should satisfy the vast majority of bitcrushing tasks right from the off.
Sample and Bit controls allow you to do the degradation, while Mix and Output level controls round things out. It really is that simple, it really is that cheap.
3. Krush by Tritik (FREE)
Krush is a completely free bitcrusher, and considering its range of talents, you'd be a fool not to go and grab it right now.
You've got Crush and Downsampling controls for the most basic of bitcrushing duties, plus a drive control and a high- or low-pass filter with cutoff and resonance controls. Already, that's enough for your no money.
But then Krush's LFO gets involved. There are standard plus random waveshapes, and the LFO can be applied to any of those five main parameters by varying amounts. Separate Dry and Wet sliders guard the output.
2. MBitFunMB by Meldaproduction
If you want a simple bitcrusher, this ain't for you, son. MBitFunMB is a multiband bitcrusher that gives you six entire bands of bitcrushing greatness, so you could set up different bit depths or sample rates for a low-mid band to what you have on the highs.
It's radical, and it's often unnecessary, but if you demand the most comprehensive in bitcrushing, this is your one.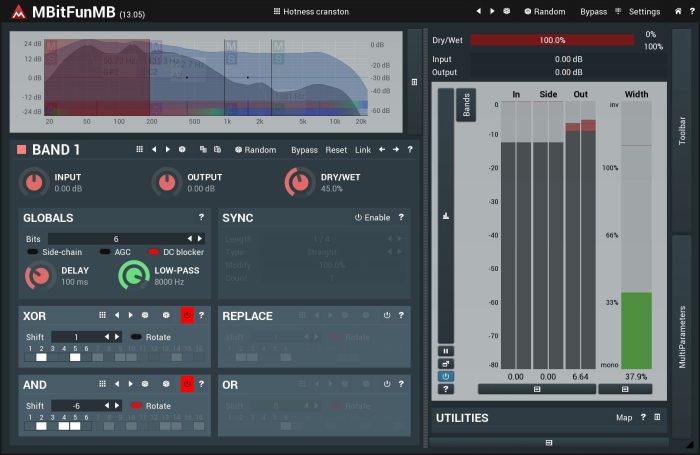 BitFun's modulators can control almost anything within the plugin, whether they're doing that in the guise of an LFO, and envelope, MIDI/audio trigger or amplitude follower – there's all to play for with this one.
Just scrolling through the presets is an exercise in advanced bitcrushing!
1. Decimort 2 by D16 Group
For excellent-sounding bitcrushing tones in a flash, it's got to be Decimort.
Here we have the massive Resampler control having an impact on the effective sample rate, giving you continuous control from 44.1k down to 44Hz, and the Resolution control giving you a say over the bit depth.
Beyond those two, there are more parameters that have a very noticeable effect on the sound. For example, you can choose to use the standard filter controls, or get the low-pass Images filter involved, to take the edge off a sharp bitcrushed signal while retaining the character of the depth you've chosen.
The Jitter control also has a large effect over the signal quality and type of degradation, and controls like Dithering, DC Shift and Frequency Shift get in on the action too.
These and more bit crusher plugins are available from Plugin Boutique.