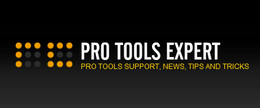 Three of the world's most visited Pro Tools sites, ProToolerBlog.com, The AIR Users Blog and Pro Tools For Media have entered into a strategic partnership to create a new online community Pro Tools Expert, that will create the biggest independent Pro Tools community on the web.
The aim of the partnership is to bring together their expertise and influence for the benefit of the Pro Tools Community in both music and post and to offer manufactures and distributors a single point of access to the huge community this will create.

"I've always had a great deal of respect for Stefan at ProToolerBlog and his commitment to the Pro Tools community; his news is second to none and I've always checked it out on a regular basis. I equally have great respect and time for Mike and his work in post and as a writer for Sound on Sound, Pro Tools for Media is a great resource for Pro Tools post users. It made sense to see if we could find a way to combine our efforts for the benefit of everyone. I believe this alliance will make us bigger, better and stronger in supporting the Pro Tools community around the world." said Russ Hughes, founder of the AIR Users Blog.

"Ever since the start, me and Russ at AIR Users Blog have had a good working relationship. We never considered each other competition, rather we found that we complemented each other very well. Mike and his Pro Tools for Media was the perfect addition as he covers ground that Russ & I rarely step on. No doubt this alliance will not only benefit the three of us, but every ProTooler out there as well, by gathering all the news, reviews, tips, tutorials and more under one banner." said Stefan, founder of the ProToolerBlog.

"I am very excited to be a part of this new venture. Right from the start we have always had a great deal of mutual respect for each other and so when Stefan & Russ suggested this idea I jumped at it. This partnership will enable each one of us to play to our strengths and together we will be able to provide the worldwide Pro Tools community with a true 'one stop shop' for news, reviews, tricks & tips for the beginner and expert alike, whether for music or post applications." said Mike Thornton MIBS, founder of the Pro Tools for Media blog.
The new site pro-tools-expert.com will launch soon, having in the short term, a holding page with links to the existing sites whilst we develop and build the new Pro Tools Expert site.
More information: Pro Tools Expert