Tracktion Corporation has announced the release of a powerful update to the Waverazor virtual synthesizer by MOK.
The 2.0 Editor version includes an innovative Contextual Editing system that unlocks the synthesizer's full potential by giving users the ability to easily manage thousands of sound sculpting parameters.
With these new tools, Waverazor 2.0 is set to boldly go where no synthesizer has gone before.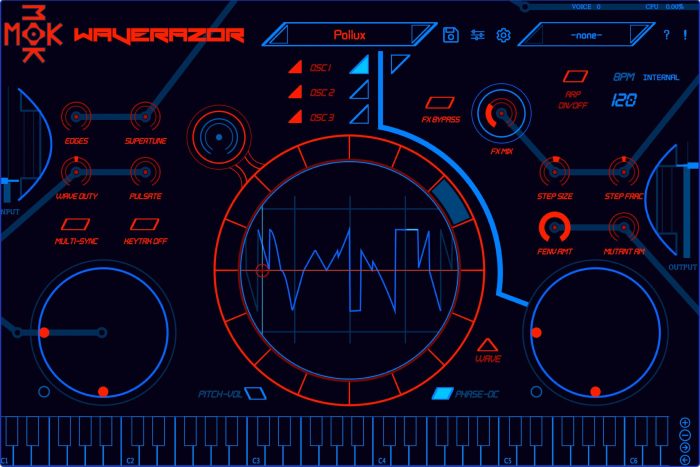 Rarely is there a genuinely new discovery in the synth world. However, in addition to its pioneering Contextual Editing system, Waverazor's patent-pending oscillator design provides a completely novel sound generation source, making MOK's launch of Waverazor 2.0 Editor a singular, extraordinary event.
The Contextual Editing system in version 2.0 completely opens up Waverazor's capabilities, giving users full access to explore an infinite universe of sound possibilities. Conventional editing tools are typically underpowered, or involve tedious searches for the right parameters. In response, MOK's state of the art Contextual Editing system melds power and efficiency by allowing the user to focus on their desired sound settings, all conveniently surrounded by directly related parameters. For instance, when editing an oscillator, you will also see the LFO that gives it vibrato. This makes navigation of the entire synthesizer and crafting intricate connections much easier, enabling musicians to 'build their own synthesizer' and quickly develop an individualized sound set.
MOK's groundbreaking oscillator design allows users to slice up waveforms and recombine them into harmonically rich sounds. Waverazor introduces futuristic synthesis methods like Wave-Slicing, Multi-Sync, and Mutant AM with more sonic discoveries yet to come. Explore original techniques such as Multi-Sync where multiple Hard-Sync points can be created within, or beyond, a single cycle. Or dig into Mutant AM and produce an aural tapestry full of complex amplitude modulations derived from the harmonic contents of each wave slice.
'We're so excited to finally put the full potential of Waverazor into people's hands,' said Taiho Yamada, Co-Founder of MOK.

'This synth is incredibly deep, and after years of hands-on development, I'm still finding new ways to patch it. We hope everyone has a blast finding sounds they've never heard before.'
Waverazor 2.0 Editor (AU/VST/AAX) is available now, priced at $159 USD. Existing customers can upgrade for free.
More information: Tracktion Corporation