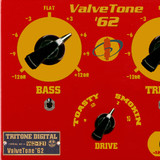 TriTone Digital has announced the release of ValveTone '62 and ClassicTone-PEV in native formats for Mac.
TriTone Digital got its start in the world of audio processing and plugins way back in 2003. Eight products later we hit a little road bump wth the untimely demise of Pluggo (may it rest in peace). Now we're back!

After a long, hot summer of coding we are finally back in business! Pluggo is a thing of the past and we now releasing fully custom-coded native RTAS, VST and AU for Mac! First up is our classic EQ ValveTone '62 and a new plugin, ClassicTone-PEV.
The ValveTone '62 is a classic equalizer plug-in.
Changes in ValveTone '62 v2.0
ValveTone is now 40% more CPU-efficient and loads three times faster.
Pluggo is no longer required.
You can now compare your settings using A/B comparison and export and import your presets via XML.
ClassicTone-PEV is modeled after a unique vintage EQ that was made by a German audio company famous for its microphones. The PEV was the first EQ ever made by this company and was used for vinyl mastering.
The original PEV featured a totally passive and discrete design with transformer balanced inputs and outputs and extremely high quality inductors for each band.

The sound and color of an original PEV EQ is absolutely unique and incredibly thick. Now TriTone Digital brings that thick tone to the land of plugins!
ValveTone '62 and ClassicTone-PEV for Mac (VST/AU/RTAS) are available to purchase for $85 USD each. Onwers of the original ValveTone '62 can upgrade for $25 USD. Those customers who upgrade before 12/31/09 will also receive a free copy of ClassicTone-PEV.
More information: TriTone Digital