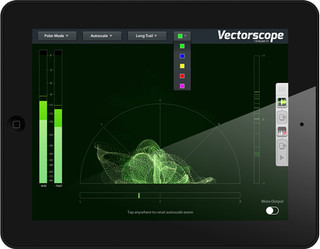 TroikaLabs has released Vectorscope, a Polar and Lissajous vectorscope app for the iPad with Audiobus and external audio support.
Vectorscope is the perfect tool to analyze your stereo material. Whether you are a producer, mixer, recording artist, or student, we believe that Vectorscope will soon become an indispensable tool for all your stereo audio needs!

Vectorscope accepts audio coming either from an external iOS-compatible audio device or from an Audiobus-compatible app. Choosing one mode or the other couldn't be easier: When the app is connected to Audiobus, the audio will be routed automatically thru it, otherwise the chosen audio source will be external — that simple!
Vectorscope features
Polar and Lissajous function plotting.
2-Channel metering with peak, RMS, peak hold, and max peak readings.
Stereo balance meter.
Phase correlation meter.
Autoscale or manual scaling rates (1x up to 8x).
Adjustable scope fading rate.
5 color schemes.
Mute Output button.
External audio and Audiobus input.
Total parameter recall.
High resolution graphics optimized for Retina displays.
Vectorscope for iPad is available to purchase for the introductory price of $4.99 USD until November 15th, 2013 (regular $5.99 USD).
More information: TroikaLabs / Vectorscope