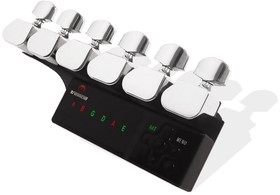 Tronical has announced the highly acclaimed Tronical Tuning Technology to be available for all customers, brands and makes of guitars.
With Tronical Tune everyone has access to this amazing self-tuning system as a retro fit kit for his own instrument. Based on the new Min-E-Tune system known from the latest Gibson models Tronical presents Tronical Tune as a retro fit kit to bring perfect tuning to potentially all guitar players – finally.

Installed within ten minutes and with minimum effort Tronical Tune basically works straight out of the box. No drilling required. The push of one single button gets the guitar in perfect tune within seconds. Additionally the player has immediate access to 12 different alternate tunings plus 6 custom tunings – this opens an infinite array of new creative possibilities.
Tronical Tune features
Multi-string & single-string tuning.
Custom tuning, reference tuning.
12 factory presets & 6 user presets.
String Up and Down, Calibration, and Accurarcy modes.
Robohead Delay.
Interference and battery levels.
Reset mode.
The Tronical Tune retro-fit-kit is available at the Tronical-Components online store and at dealers worldwide for 299 EUR/USD.
More information: Tronical