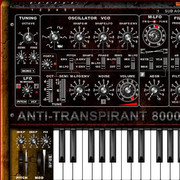 TubeOhm has announced the release of Anti-Transpirant 8000, a virtual synthesizer instrument for Windows.
After the VINTAGE prog stress we build a ,back to the roots' synth. Powerfull VA sounds with 8 x OVERSAMPLING – thats new !! It looks, feels and sound's like the old hardware synths. And A-T had it's own character.
Anti-Transpirant 8000 features
Audio frequency filter FM.
Audio frequency PWM modulation.
Multimode filter 12/24 dB /envelope /VCA/VCF.
Delay effect.
Multi trigger ADSR with LFO.
6 voices max.
A-T 8000 with 2 GUI's.
Includes 3 Instruments , A-T 8000 with 8x oversampling, A-T 4000 with 4x oversampling, and A-T 6 without oversampling.
Anti-Transpirant 8000 for Windows (VST) is available to purchase for 29 EUR. A monophonic version with 8x oversampling is free for all registered TubeOhm users, available on request.
More information: TubeOhm