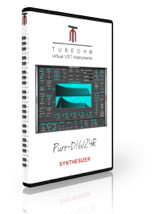 TubeOhm has released Pure-D16/24R, a virtual synthesizer plug-in for Windows.
The Pure-D14/24R Synthesizer generates the sound with three sample oscillators. With the step-sequencer and the gater modul it gives moving soundscapes

It can use different samples for the basic waveforms. A complete subtractive synthesis engine behind the sample unit with VCF,VCA, LFO's, ADSR and multistage envelope gives a rich warm sound spectrum.

The Pure-D16/24R comes with four effect units. Delay, leslie, phaser,chorus and reverb.
Pure-D16/24R features
Effects: Delay, Leslie, Phaser, Chorus and Reverb.
Multi-stage Envelope for modulation, loop, curve.
10 Voices.
3 Sample Oscillators 16/24 bit mono/stereo / three loop modes.
1 Multi-mode Filter 12/24dB, TP/HP-BP.
1 Filter-ADSR / timestretch function T*1, T*5, T*10.
1 VCA-ADSR / linear-log / timestretch.
2 LFO / LFO 1 phase-sync.
6-channel Mixer.
Soft Tube Limiter.
Mono/Poly mode.
Glide function.
1 Arpeggiator with gate-time / live function.
Ring Modulator.
Single Distortion.
2 Modulation Busses with 6 sources, 9 destinations and 5 controllers, intensity adjustable with 2 x amount.
Quick Tune.
LIN or LOG damping for the filter-signals.
Velocity VCA.
Velocity VCF.
MIDI Learn function for all parameters.
128 presets.
32 step 64 pattern Pattern Sequencer and Poly Gater function.
Pattern chain is possible.
Enhanced VST Host sync features for the Delay and the Step / Pattern Sequencer.
English manual on request.
Pure-D16/24R is available to purchase as a VST instrument plug-in for 59 EUR (49 EUR for all registered TubeOhm users).
More information: TubeOhm