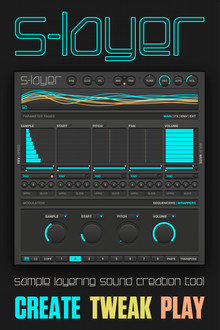 Twisted Tools has released version 1.1 of its S-LAYER for Native Instruments Reaktor.
S-LAYER is a sound creation tool that allows you to create, edit and play new sound combinations by taking samples and layering them together using an eight part sampler and an intuitive cell layout.

By combining sounds from the included sample map or your existing sample library, S-LAYER facilitates the discovery of new oneshots, sound effects and loops from your pre- existing sample content.
Changes in S-LAYER v1.1
Improved Sound Quality – Transients are sharper and the overall sound is crisper and closer to the original unprocessed sound.
Delay Cell – Start time delay per layer.
Phase Invert Mini-Cell – Phase invert per layer.
Mono Mode Mini-Cell – Mono mode per layer.
Pitchbend – MIDI in pitchbend messages now supported.
Output Limiter/Clipper – Added simple one-button output limiter/clipper to prevent overs.
New and improved mouse behavior for cell sliders – Clicking sliders displays value and double-clicking slider anywhere will lock slider into place.
Safe Scene Switching Mode – Optional mode to improve Scene switching in DAWs using older CPUs, preventing clicks that might occur.
Soloed Layer Highlighter – Highlights the soloed layer row.
MIDI capable GUI display switching (optional) – User can now assign MIDI CC's to GUI page switching for Main Pages, Sequencer/Wrapper Pages and Strt | Delay cells.
S-LAYER for Reaktor is available to purchase for $69 USD.
More information: Twisted Tools / S-LAYER