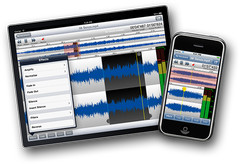 TwistedWave has announced the availability of an iPhone/iPad version of the audio software for Mac.
TwistedWave for iOS allows you to record and edit audio. It is based on the same engine as TwistedWave for MacOS X, and is therefore also very fast and responsive. Moving around and zooming in the waveform is very fluid.
TwistedWave for iOS features
Copy and paste your audio.
Undo/redo instantly.
Amplify or normalize the audio to a given level.
Add fades in or fades out.
Apply different kinds of filters to adjust the level of the low or high frequencies.
WAV, AIFF, CAF and AAC audio.
Import/export audio to iTunes (with iOS 3.2).
Send your audio by mail.
Upload to an FTP account.
TwistedWave is available now to purchase on the iTunes App Store for $9.99 USD.
More information: TwistedWave / TwistedWave Mobile