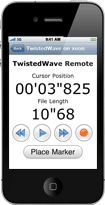 TwistedWave, an audio editor for Mac, was updated to version 1.10, including the release of the TwistedWave Remote app for iOS.
TwistedWave Remote is a new iPhone application that can be used to remotely control TwistedWave. You can use it to start and stop playback or recording. It will also allow you to place markers while you are playing back audio, or in the middle of a recording session.
Changes in TwistedWave v1.10
Upgraded to DIRAC 3 Pro, for a faster speed and better quality when pitch shifting or time stretching.
Added support for saving mp2 files.
Added the TwistedWave Remote, to remotely control TwistedWave from an iPhone.
Added the ability to append files together when multiple files are selected from the open dialog.
It is now possible to drag/drop files directly from iTunes.
Added the volume and loop toolbar items.
YouTube import was fixed.
Fixed a problem with the RemoveDC effect.
Other fixes…
TwistedWave for Mac is available to purchase for $79.90 USD. TwistedWave Remote is available as a free download from the iTunes App Store.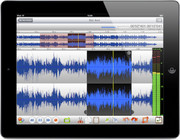 The iOS version of TwistedWave was updated as well.
Changes in TwistedWave iOS v1.2
New export options:

It is possible to send an audio file to Dropbox.
Email a link or upload by FTP an mp3 file encoded and hosted online on twistedwave.com.
Browser access to allow downloading and uploading files from/to TwistedWave with a browser on your computer.

More effects:

Delay effect.
Compressor/limiter effect.
Pitch shifting/time stretching with DIRAC.

Better support for large files

Previously, when you were recording large files, TwistedWave could get out of memory, and would quit. Now, it is possible to record for many hours. The only limit is the storage capacity for the audio file.
Furthermore, when reopening a large document, one hour long or more, TwistedWave should now be much more faster.

TwistedWave remembers the position and selection when you reopen a document.
Added buttons to cut, crop and loop the audio.
The cursor and selection are automatically adjusted to zero crossings to avoid clicks when copy/pasting audio.
TwistedWave for iOS is available to purchase for $9.99 USD.
More information: TwistedWave