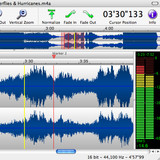 TwistedWave, an audio editor for Mac, was updated to version 1.9.
The main new features are the support for VST plugins, the ability to import YouTube soundtracks, and support for .wmv, .flv, .ac3 and Audiobook .m4b files with chapters, and speech synthesis.
Changes in TwistedWave v1.9
New Features

Support for VST plugins.
Import YouTube soundtracks.
Integration of Apple's speech synthesis.
Support for reading .wmv, .flv and .ac3 files.
Support for Audiobook .m4b files.
The markers are loaded/saved as chapters in mp4 (.mp4 .m4a .m4b .m4r) files.
Split multichannel support for batch processing.
New batch processing actions: cut, fade in/out, reorder channels, add/remove/split by markers, copy a metadata field to another.
Support for trackpad swipe and pinch gestures.
Automatically place markers at regular intervals.

Improvements

Smoother zooming and scrolling with the magic mouse or trackpad.
Uses Sparkle for automatic updates.
Added the possibility to undo all the previous actions of the same kind at once.
Much faster file loading, especially reading mp3.
The Insert Silence effect will replace the selections if a selection exists.
Use shift-space to stop playing without moving the cursor back.

Fixes

The markers from some wav files would not load.
Fixed a problem when saving files whose samples were more than 0 dbFS.
Saving/loading MP3 files would add a small silence at the beginning/end of the file.
TwistedWave is available to purchase for Mac OS X 10.4 or later, priced at $79 USD.
More information: TwistedWave