u-he has launched a product page for its Bazille, a modular synthesizer instrument for Windows and Mac.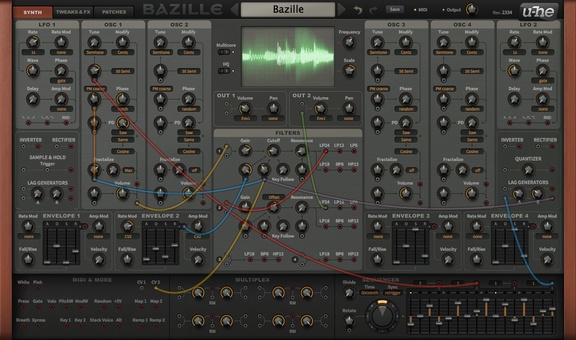 Bazille is a modular FM and Phase Distortion Synthesizer. It's modular engine allows for patching of any signal output into any signal input, regardless of signal type. This makes Bazille a sibling of ACE, but it caters for a digital synthesis paradigm rather than for subtractive (virtual analogue) synthesis.
Bazille features
Hybrid modular system: digital oscillators, analogue filters – amazing SFX capabilities.
4 oscillators with simultaneous FM, PD (phase distortion) and FR (fractal resonance).
4 multimode analogue type filters, 2 of which have 6 parallel outputs.
2 modulation maps, lag processors, quantizer, inverters, rectifiers, sample&hold.
Morphing sequencer: 8 slots of 16 steps each (splittable into 4, 8 or 12-step units).
U-he's exemplary customer support, all regular (.x) updates are free of charge.
Sign up for the u-he newsletter to be notified when Bazille is available.