U-he has announced the release of Protoverb, a free experimental reverb effect plugin for Windows and Mac.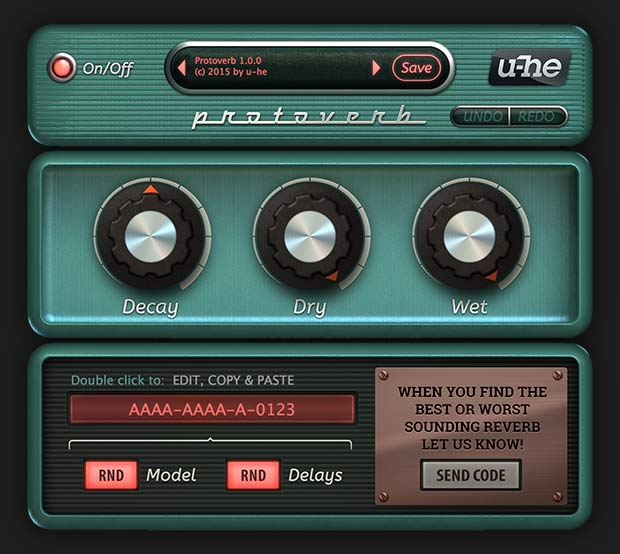 U-he is returning to the lab to do some research … and we'd like your help. Protoverb is a free experimental plug-in created to help us learn more about reverb. It is the first of our "research-ware" plug-ins designed for experimentation and study. With your input, we can discover improvements for future products.

How to help (and win).

To help, we are asking you to experiment with Protoverb and send us your best (or worst) sounding reverbs.
After downloading and installing Protoverb, test it with audio examples: synths, vocals, drums … anything and everything. There are a limited number of controls and two randomise buttons which modify Protoverb's hidden settings. Every parameter setting is identified by unique code, displayed in the interface. The codes can be edited, copied and pasted.
Experiment and explore different settings, and when your hear something worth sharing (anything from the wonderful to the awful), share it with us by pressing the Send Code button.

As a reward for helping out we will create a contest and award some prizes for the best submissions. To enter the contest include your email address when you sumbit your code. We will announce the full details of the contest and prizes in January.

If identical codes are submitted only the first will be entered into the contest – so experiment quickly, then feel free to share once you have sent your code in to us.
Protoverb is a free download for Windows and Mac (VST/AU/AAX).