u-he has updated the public beta of the Hive synthesizer instrument for Windows and Mac.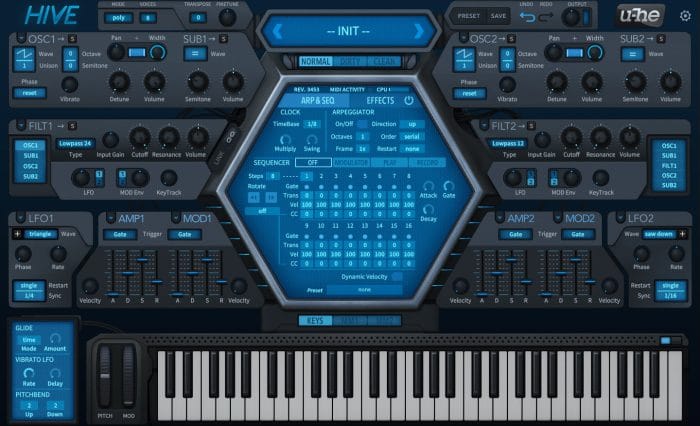 Because the public beta serial ran out today, we've uploaded a new revision 3453 of Hive! Simply download from links below and install over your current Hive.

Currently it looks like I need about two weeks of concentrated work to fix bugs and implement certain features into their final shape. The emphasize is on "concentrated work" since there was too much going on to really concentrate lately. When pretty much the whole staff (less me) of u-he goes on vacation after Musikmesse I think I'll finally find that time. Fingers crossed!
Changes in Hive Rev 3453
Extended Hive for April/May public beta period.
More Factory Presets previewed.
Up to date user guide.
UI update.
Configuration panel (midi learn, midi table and preferences).
Pan Width control now using sensitivity settingsX =0.5 (2.0 before).
Removed WIP tab (hexagon memory now has two states).
Sequencer has new Icons for rest/gate/tie.
Brightness contrast tweaks to main panes.
New fav / junk icons.
Removed WIP tab (hexagon memory now has two states).
Mod matrix has new On/Off buttons.
New preset browser.
Optimized output meter graphics.
Fixed – 0001700: LINK mode: Can't reach left parameters via ModMatrix when linked.
Fixed – 0001743: Graphic glitches on windows; res ?100%.
The new public beta for Windows and Mac (VST/AU/AAX) is available for download from the u-he forum. A license is available for purchase for $99 USD while Hive is in public beta (regular $149 USD).