u-he has announced the release of version 1.2 of Hive, the virtual synthesizer instrument that is designed to by sleek, streamlined and fast.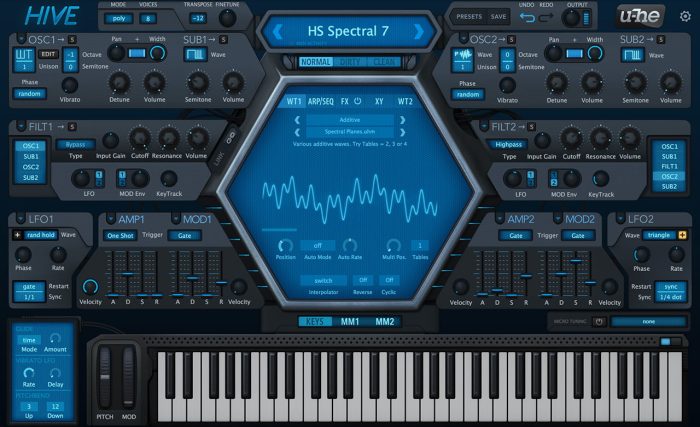 The update comes with full fledged wavetable support, 4 auto-assigned XY pads, additional mod matrix modifiers, a new preset browser, and lots more.
With the release of version 1.2, Hive features Wavetable scanning support. Wavetables can be easily selectable as oscillator waveforms and controlled in the Hive hexagon. It's also possible to manually scan through wavetables, or to automate the scanning via the modulation matrix. Through the wavetable controls, you can enable the scanning in Auto mode with different looping options. This lets you animate the position without the need of a modulation source.

More features include a Reverse option to flip the wavetable back to front, Cyclic mode for seamless wavetable cycling, and different real-time interpolation methods.
The Hive factory presets library has been expanded with 489 presets showcasing the new technology. You can find them in the new preset browser under the *wavetable* tag.
Changes in Hive v1.2
New Features/Improvements:

New Preset Browser.
New Wavetable oscillator.
New XY Macro Control with auto-assignment.
New Mod Matrix modifiers (Curve, Quantize, Rectify, Slew Limiter).
New Mod Matrix modulation depth cross modulation.
489 new factory presets.
Added MicroTuning support.
Added VST3 support.
Pitchbend range now +/−48.
New user defined MIDI CC sources replace fixed expression and breath modulation.
Control A/B offset feature added (to use XYs instead of user defined MIDI CC sources).
Reveal in Finder/Explorer function available for module presets.
Plug-in format and OS info displayed in GUI alongside revision number.
Mouseover shows parameter values in Data Display.
GUI performance improvements on Windows.
Init preset can be loaded from Data Display (for Win users: also works via right-click).
Increased maximum number of skins from 10 to 20.
Improved handling of 14bit MIDI CC assignment.
Added UTF-8 support for user registration.
Windows installer suggests new default installation location.
Windows installer now certified.
MacOS High Sierra / Mojave compatibility.
Factory presets are tagged now.
Volume of factory presets now more consistent.

Fixed:

Fixed unsorted folders and presets when using APFS file system in macOS High Sierra / Mojave.
Fixed possible crash in Cubase when selecting presets (Mac OS X only).
Fixed an issue where long preset names could extend outside the Data Display or Preset Browser window.
Fixed an issue in sequencer, if 'dynamic velocity' was active, it could produce notes with zero velocity.
Fixed zipper noises when turning/modulating distortion parameters.
Fixed an issue where clicks could occur during the first few notes played.
Fixed an issue where envelope sustain could overshoot and create loud clicks.
Smoother dry/wet fx parameter modulation.
Oscillator in flow mode now randomizes phase of first played note.
Fixed an issue where link button was reactivating itself when switching skins.
Various small fixes and improvements.

Known Issues & Notes:

Depending on the used wavetable, some presets might take a short moment to fully load.
Storing wavetables next to presets will only work in local (factory presets) location for now.
Mac: if installing AU plugin format, you may need to reboot your Mac after installation (Apple bug).
Windows: if running an update installation, please check if the automatic folder selection chooses the correct path; if in doubt, use the manual folder selection option.
Windows: slight flickering of the browser background when switching presets.
Tags are now final, so if you were using the latest build (rev. 7485) or the tech preview (7742) to tag your presets, please check and adjust if necessary.
Hive is available for Windows, Mac and Linux in VST, AU and AAX plugin formats, priced at 149 EUR. The update is free for all owners of Hive 1.x.
More information: u-he