u-he has released version 1.1 of Presswerk, a dynamics effect plug-in for Windows and Mac.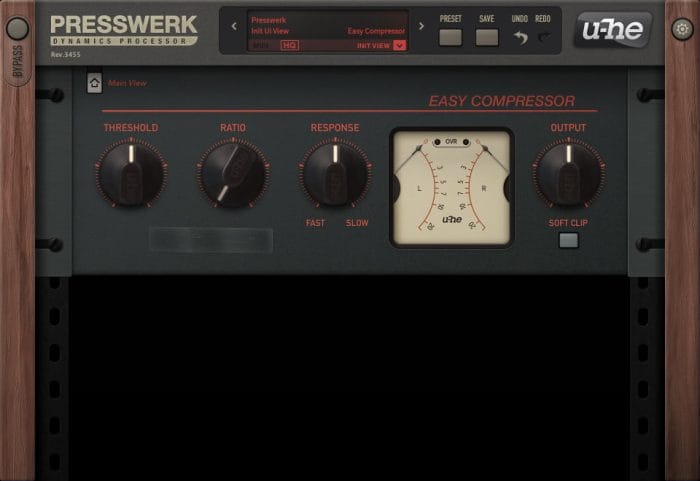 Presswerk is a typical u-he product in that it sounds great and is super-flexible. But sometimes there are just too many bells and whistles for the job at hand. That's where Presswerk's VIEWS come in handy: Dedicated easy interfaces, faster workflow, signature sounds.
Changes in Presswerk v1.1
6 special views via INIT menu

M/S Program Compressor — The specialist for independent manipulation of mid- and side-signal partials of a stereo source. Previously reserved for experts, Presswerk makes powerful M/S processing available to everybody.
Vocal Compressor — The vocal performance demands your full attention. With few controls and a great deal of automatic behaviour, it's easy to stay focused. Comes with instant de-esser switch, plus an Enhancer for extra clarity and air.
Drum Compressor — A great compressor for drums: lively and responsive, characterful and robust. Can do New York style with ease, and can 'kick some serious bottom'.
Bus Compressor — Transparent and optionally semi-automatic, this view was designed to cater for complex audio material. Creates that sought-after 'glue'!
Easy Compressor — The fast way to smooth out dynamic fluctuations and make your tracks instantly compact. Suitable for any kind of material, it really shines on electric bass and guitar.
Limiter — The power of Presswerk as a brickwall-limiter. With minimum artifacts, this compressor can easily push things into 'insanely loud' territory!

Configuration pages replace context menus.
Presswerk for Windows and Mac is available for purchase for $129 USD. The new version is available for download from the u-he forum.