u-he has announced the release of an update to the Zebra2 family of synthesizer instruments: Zebra2 and The Dark Zebra, and the free Zebralette.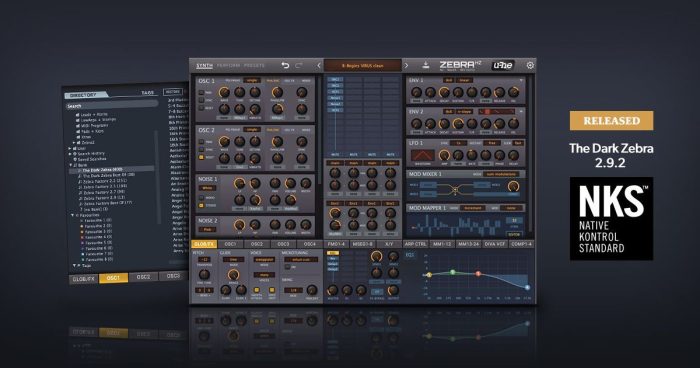 The Dark Zebra 2.9.2 is now fully NKS-ready and macOS 10.16 "Big Sur" compatible.

All 400 Dark Zebra presets have been tagged, and each one now has complete X/Y pad control. The presets sound pretty much like they always did – until you start using the pads! While tweaking those extra dimensions, Howard took the opportunity to use the extra modules added for Hans since the initial release.
The update to The Dark Zebra is available to current users on the My Licenses page at the u-he website. It is available to purchase for 99 EUR (requires Zebra2).
The regular Zebra2 is now also macOS 10.16 "Big Sur" compatible.
We improved the preset browsing experience, added support for sound banks, and implemented various minor tweaks. You can read the full list of changes in the release notes.
Changes in Zebra2 v2.9.2
Big Sur compatibility.
Soundset installer support.
Browser: Bank name feature added.
Browser: Alternative search method using wildcards.
Reveal in Finder/Explorer behaviour improved.
Full-size editors: Grid background graphics are back.
Browser: Numerous fixes and improvements.
Loading presets during scan: Issue fixed (Windows only).
Minor GUI fixes/tweaks.
Fixed unresponsive parameters on Perform page (DotEight skin only).
Known issue: MSEG fill gradient graphics glitch (Windows only).
Known issue: Context menus need plugin focus to work (macOS issue).
Known issue: Crash when trying to load script presets (e.g. Randomizer).
Zebra2 is available from u-he and distributor Plugin Boutique, priced 199 EUR. Current users can update from an older version by downloading the installer from the product page and following the installation instructions in the included user guide.
Additionally, the freeware synth Zebralette has received a completely new look, alongside Big Sur compatibility, Soundset installer support, and various other improvements and fixes.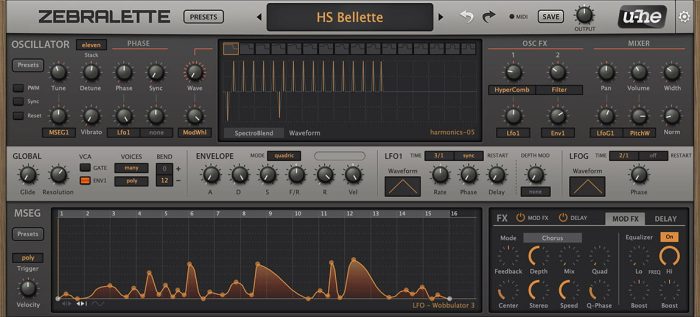 Zebralette is our version of a Trojan horse. A free synthesizer and an introduction to Zebra2's fantastic oscillators. Perhaps it will persuade you to try Zebra2 and upgrade. If one oscillator is this powerful, imagine what you can achieve with four… and all the other great features available in Zebra2.
Donwload Zebralette for free at the u-he website.
Note that the updates are currently only available for macOS and Windows. Linux versions will follow soon.
Furthermore, u-he has posted an introduction to the upcoming CVilization Eurorack module featuring four modes: 4 x 4 Matrix Mixer, 4 x 4 Sequential Switch, Quad Mucorder, and Quadraphonic Panner.
u-he proudly presents CVilization, a unique multi-mode utility module for your Eurorack system. This first video offers you a general overview of what it's all about.