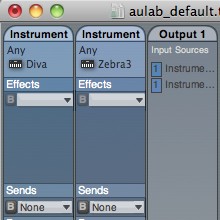 Urs Heckmann of u-he has announced some pricing details on the upcoming Zebra3 software synthesizer for Windows and Mac.
Actually, we've started to work on Zebra3, that's true. Because we're not Apple and we're too excited to keep it a secret, we came up with a devlish incentive to still get Zebra2:

Price for Zebra2: 199$
Price for Zebra3: 249$
Upgrade V2->V3: 30$
Upgrade from Zebra2 + The Dark Zebra: Free

So, hehe, it really makes a lot of sense to get Zebra2 first. For one thing it's cheaper to upgrade. And then, you have access to a few thousand presets in Zebra2 which may or may not be ported to Zebra3.

Just a note: While ZebraHZ (the "upgrade" coming with The Dark Zebra) has Diva's filters, Zebra3 won't have the exact same ones.

More facts once we know them.
More information: u-he