u-he has released release candidate 5 of version 1.2 of its Satin tape emulation effect plug-in for Windows and Mac.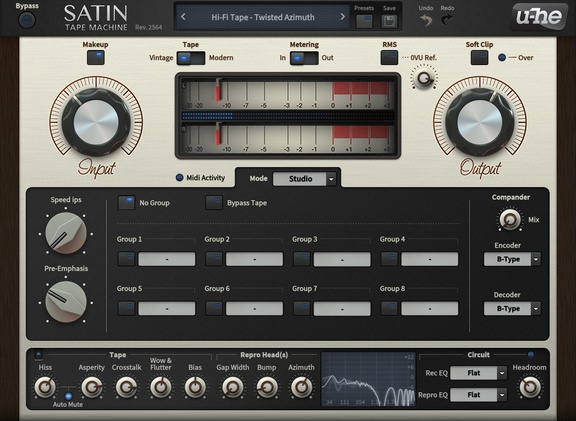 Users familiar with analogue recording gear should instantly feel at home with Satin, and digital afficionados will also learn to love the magic of tape – Satin invites you to explore and find out for yourself.
Changes in Satin v1.2 RC5
Azimuth control for the Repro head.
Pro Tools AAX support.
Greatly reduced overall memory consumption.
Much faster GUI loading time.
Value display now shows parameter units.
Added MIDI IN activity LED.
Added Undo / Redo.
Added 'Same as' feature for "Circuit" & "Compander".
Added new Analyzer options via right-click (eco / fast / glow).
Added choice of gamma adjustments to GUI editor for brightness control (right-click on GUI).
Added HD UI Images for use on large or high resolution displays (see Extras folder in .zip).
Added UI scaling in steps of 10%.
Added Blinking Bypass button.
Mouse Wheel can be rastered (For rastered mouses to ensure integer steps) -> right-click on a knob or slider.
Reworked Installers for OS X and WIN.
Updated manual.
Added many other small improvements to Software and GUI.
Many bug fixes.
Satin for Windows and Mac is available for purchase for $129 USD (excl. VAT in EU). Version 1.2 rev2564 (RC5) is available to download from the u-he forum at KVR Audio.