u-he has posted a new public beta version of Bazille, a modular synthesizer instrument for Windows and Mac.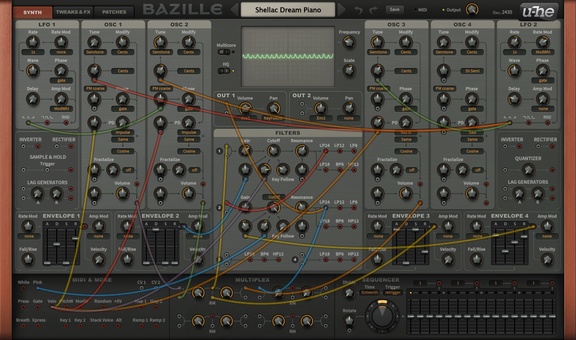 This hasn't gone through proper internal testing yet, but as the public beta serial expires on Tuesday, we thought you'd appreciate a quick update with a month's extension.

We're now almost through with the things we still wanted to do, but we might not be there for a final release yet.
Changes in Bazille rev2435
UI scaling in steps of 10% (let us know what you think) Note: Scope not yet fixed for resize.
Voice Control rewritten for multi-MIDI-channel support (Poly mode acts as "Note Expressions For Anyone" where notes played on a distinct channel receive PitchBend, AT/PolyAT, ModWheel, BC and Expression just on that channel. Mono/Legato modes work like 16 separate instances, one on each channel aka "Guitar Mode"). This stuff does not yet work in Duo mode.
on the same subject, much of the Notestealing trouble fixed.
New "gearporn" skin added – everything on one *busy* page, no tabbed interface.
Snapshot copy/paste/interpolate should work now.
A lot more things undo/redo-able.
Improved TapMap (less aliasing, proper gain, fixed loading from presets in Multicore mode).
Thru-Zero FM depth independent of quality (automatic fix for existing presets).
Global Finetune now in real Cents (automatic fix for existing presets).
The new public beta is available to download from the u-he forum. Bazille is available to purchase at a 30% discount for a limited time.