u-he has released public beta revision 3304 of its Hive synthesizer instrument for Windows and Mac.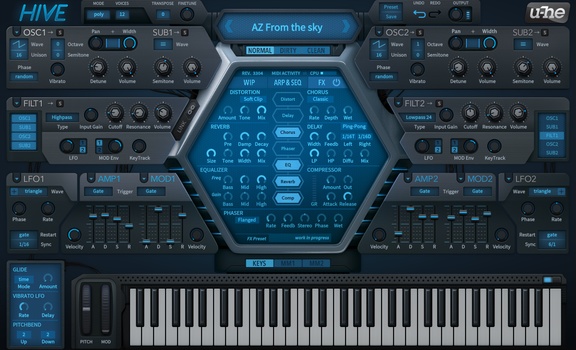 The public beta period has been extended till end of March 2015 and a bunch of presets have been added as a Factory Preview.

Your feedback and things were simply too good – but also a bit too overwhelming – to finish this before my holidays. I'll be back to finish this in March and we'll probably release it in April (we'll have a booth at Musikmesse…).
Changes in Hive rev 3304
New features:

Pre Presets…
On/Off Button for ModMatrix slots.
Extended Hive public beta serial till first quarter of 2015.
Keyboard style switch.

Bugfixes:

Synth Engine buttons now working when 'Link' is enabled.
Dropped '%' for Vibrato.
The new public beta is available to download for Windows and Mac from the u-he forum. An updated Linux version is coming.
Hive is available for purchase at a 30% discount during the public beta period.