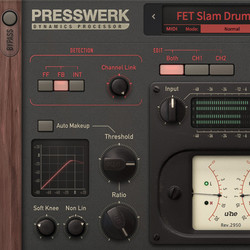 u-he has released public beta Rev 3225 of its Presswerk dynamics effect plug-in for Windows and Mac.
Updated again: Rev 3225 (December 9th) adds presets by Bob Humid and 3ee, marks last milestone before release candidate.

This version also adds a skin without "shadow parameters". Some people found the red glows that depict the invisible parameter states confusing. We would like to know if not seeing them is easier to work with before we decide how to go on, i.e. which alternatives to present.

We've also fixed a lot of issues, I'll update this post once we got the final list.
The latest public beta of Presswerk is available to download from the u-he forum at KVR Audio. The plug-in is available for purchase at a 30% discount during the public beta.