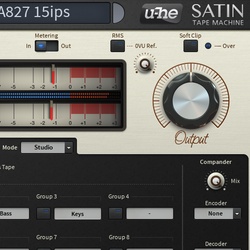 u-he has released a new public beta version of the Satin tape machine effect plug-in for Windows and Mac.
Here's a new version of Satin 1.1.1 (might become Satin 1.2):

Satin rev 2033 Win
Satin rev 2033 Mac

Apart from the good points we had in build 1973 (faster loading, less RAM, less CPU/denormals etc. etc.) this one

fixes possible crash bug in VST3 (Wavelab)
fixes possible crash bug in Group Controller
fixes problem with hosts picky about channel layouts
more fixes of little issues and niggles
Visit the u-he forum at KVR Audio for more details and make sure to let the u-he team know if you experience any issues.